Marbles Park Ticket Redemption Machine
About Marbles Park Ticket Redemption Machine
Marbles Park Ticket Redemption Machine is a mechanical and video game highly combined with the new push coins ticket redemption machine, is a perfect major upgrade of the traditional push currency products. Innovative design and fun gameplay combined to meet the needs of family entertainment players. The machine is unique in shape and beautiful in picture, attracting the attention of the public. The gameplay is simple, the content is rich and interesting, and the diversified game links stimulate the players to experience repeatedly and meet the experience needs of the players for parent-child entertainment, which is favored by the players.

The machine adopts cute pig image and exquisite appearance, and the machine color mainly adopts blue, yellow and pink three colors, bright and colorful, eye-catching. The entity receiving hole with special shape combines the micro-innovative gameplay experience of shooting the game, rich lighting effect and exquisite modeling design, giving players more real feedback of winning the prize and strengthening the sense of achievement of players' goals. The appearance of the machine is exquisite and the gameplay is simple, which is suitable for the public parent-child players to play.

Machine is designed for multiple players, allowing three players to play at the same time. Gameplay is simple, players just need to seize the opportunity to press the button, launch the token into the shooting device, it will shoot the award on the screen and get the corresponding reward, during the game, multiple rewards are designed. The game consists of three normal scenes: seaside green, desert tribe, cherry blossom garden, and a special scene of ice and polar regions. The graphics are beautifully made and suitable for public entertainment.
Marbles Park Ticket Redemption Machine Product Details
push coins game machine with ticket redemption function
mechanical combined with video game
the appearance of the machine is designed with a lovely pig image
multiplayer cabinet design
three normal scenes: seaside green, desert tribe, cherry blossom garden
multiple reward methods
control type: button
player: 1~3 players
voltage:110-240V
Marbles Park Ticket Redemption Machine Other Details
| | |
| --- | --- |
| Product ID: | 011552 |
| Item Type: | Medal Games |
| Country: | China |
Marbles Park Ticket Redemption Machine Images
Marbles Park Ticket Redemption Machine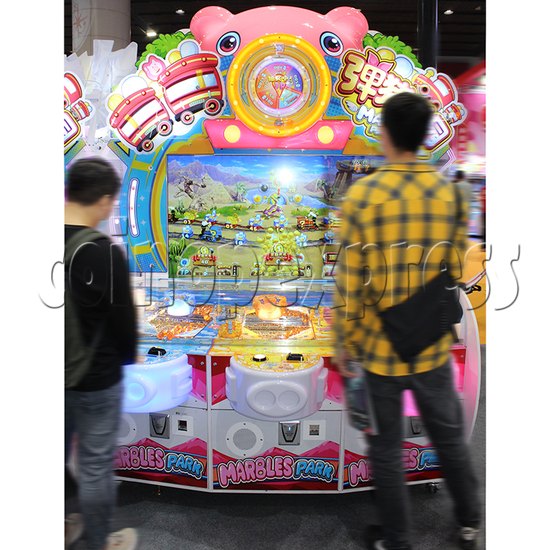 Marbles Park Ticket Redemption Machine play view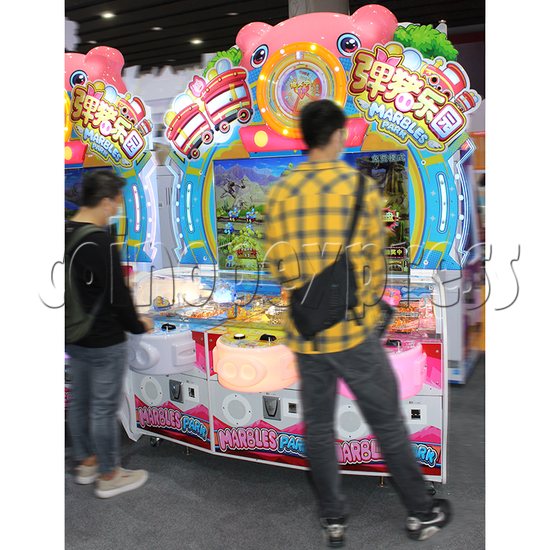 Marbles Park Ticket Redemption Machine play view
Marbles Park Ticket Redemption Machine screen display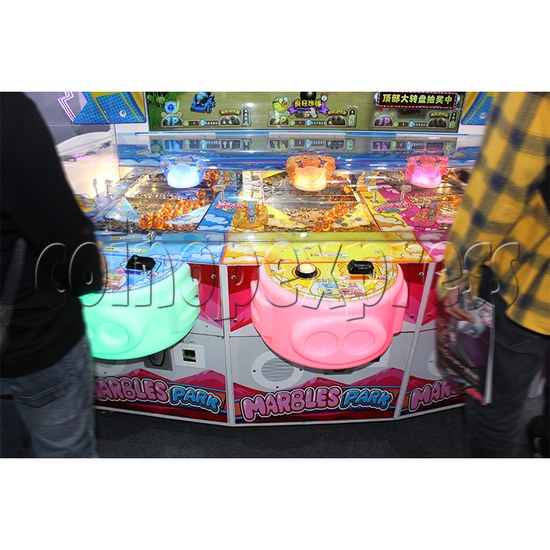 Marbles Park Ticket Redemption Machine control panel
Marbles Park Ticket Redemption Machine playfield
Marbles Park Ticket Redemption Machine playfield
Please Note: there is minimum order of $200USD (more info)