Sega Naomi Arcade Motherboard  
About Sega Naomi Arcade Motherboard  
Sega Naomi Arcade Motherboard is SEGA next generation arcade hardware after Model 3 Step 2.1. Naomi and Dreamcast are almost identical in that they both share the same CPU (Hitachi SH-4 200 MHz), same GPU (PowerVR Series2 100 MHz), and the same 64 channel ARM7 based sound system (Yamaha AICA 45 MHz). The main difference will be in the amount of main RAM, the amount of graphics RAM, the amount of sound RAM, and the storage option, with the Naomi board allowing banks of ROM chips for game storage. There is no option for SEGA's special GD-ROM (1.2 GigaByte Disk-ROM) on the Naomi.
Sega Naomi Arcade Motherboard   Product Details
Mother board only
original & used
Specifications:


CPU: SH-4 64-bit RISC CPU (200 MHz 360 MIPS / 1.4 GFLOPS)
Graphic Engine: PowerVR (PVR2DC)
Sound Engine: Super Intelligent Sound
Processor (with internal 32-bit RISC
CPU, 64 channel ADPCM)
Main Memory: 32 MByte
Graphic Memory: 16 MByte
Sound Memory: 8 MByte
Media: ROM Board (maximum size of 168 MBytes)
Simultaneous Number of Colors: Approx. 16,770,000
Additional Features: Bump Mapping, Fog, -Alpha-Bending (transparency), Mip Mapping (polygon-texture auto switch), Tri-Linear Filtering, Anti-Aliasing, Environment Mapping, and Specular Effect.
Sega Naomi Arcade Motherboard   Other Details
| | |
| --- | --- |
| Product ID: | 000885 |
| Item Type: | Naomi I / II Rom Board |
| Manufacturer: | Sega |
| Country: | China |
Sega Naomi Arcade Motherboard   Images
Sega Naomi Arcade Motherboard - PCB
Sega Naomi Arcade Motherboard - Front View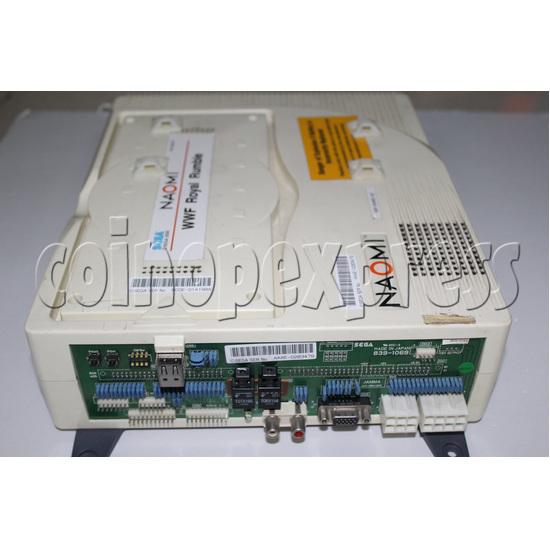 Sega Naomi Arcade Motherboard - Side View
Please Note: there is minimum order of $200USD (more info)