About EMP Jammer Alarm System
EMP Jammer Alarm System is as a watchdog protection for all of your coin-operated machine, has been designed to stop and deter thieves armed with EMP Jammers or Slot Jammers from being cheated out of coin-operated machine income, features with LCD timer display to count down the cheater devices are detected and with loud alarm, when the EMP Jammer Alarm System suspects a cheater device, the alarm will be triggered and will run for 10 minutes or until the machine is turned off. It is the only FCC USA Approved product, do not buy copier inferior products.

The LCD timer display: Each time a "cheater" attempts to cheat your equipment, the alarm will immediately turn on and +1 will be added to the counter. Please note, if the cheater keeps trying to cheat the machine during the alarm, it will keep adding to the counter.

This EMP Jammer Alarm System is an Anti-Cheater Alarm system, when the cheater devices send an Electro-Magnetic Pulse(EMP) or Electronic Signal to the pay in module, which is detected as a payment by the machine. Our EMP Anti-Cheater Alarm System will create a protective WIFI barrier running at various frequencies to stop cheater devices from working on the machine and create a wired barrier for advanced cheater devices, highly effective if cheater devices have variable pulse frequency.

It means that our EMP Jammer Alarm System detects an EMP/Electric Signal being sent from the cheater device, a loud alarm is triggered.

This will alert staff of the cheater's presence. The EMP Anti-cheater alarm may be mounted on the interior or exterior of the machine. An internal counter keeps track of the number of times a cheater device has been detected – so if a machine is rented to a venue, you can keep track of attempted thefts.

To protect your coin-operated machine, gaming, arcade machine or vending machine, please install our EMP Anti-Cheater Alarm System, it will as an security wall and alarm system to stop the thefts.

It is easier to install your EMP Jammer Alarm System, it is small equipment, with simple installation and setup your anti cheater device into your machine, each time you turn on your machine with anti cheater device, the alarm will be triggered for less than 1 second.


EMP Jammer Alarm System Product Details
anti cheater device
with LCD timer display
with loud alarm installed, can be mounted on the interior or exterior of the machine
easier to detect an EMP/Electric Signal being sent
supports wireless security or support wired security
with EMP Jammers or Slot Jammers
EMP anti cheater Alarm system
EMP Jammer Alarm System Special Notes
A Series Of Fish Hunter Games, To Shooting Variety Of Fish Targets Or Other Cute Swinging Characters To Catch As More As Fish To Win More Tickets/points, Included In This Section Are Complete Games Motherboards And Software Boards, IO Board For Option, Can Be Upgrade Your 6 Players, 8 Players, 10 Players Cabinets;


EMP Jammer Alarm System Other Details
| | |
| --- | --- |
| Product ID: | 010593 |
| Item Type: | Fish Machine Gameboards and Software |
| Country: | China |
| Year Released: | 2019 |
| Notes: | This is an original Arcooda EMP anti cheater device which is the only USA FCC approved device. Avoid copy products which do not offer the same protection. |
EMP Jammer Alarm System Images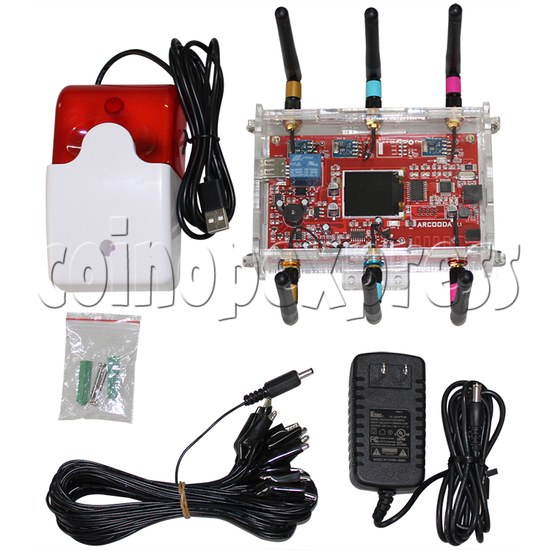 EMP Jammer Alarm System - full set
EMP Jammer Alarm System - angle view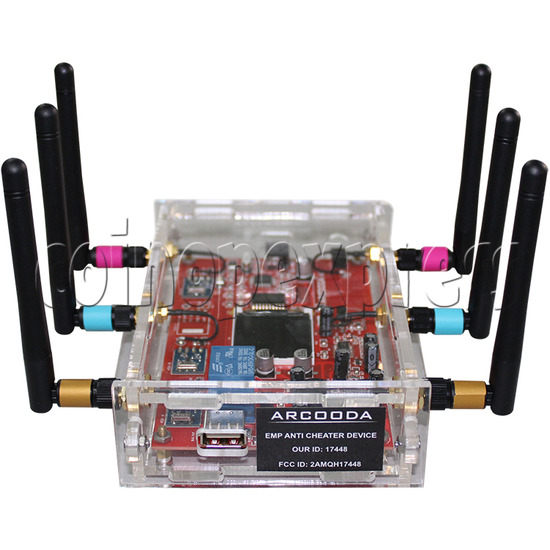 EMP Jammer Alarm System - left side view
EMP Jammer Alarm System - right side view
EMP Jammer Alarm System - top view
EMP Jammer Alarm System - connection method
EMP Jammer Alarm System - package
Please Note: there is minimum order of $200USD (more info)