Coin Operated Timer Board with LED Display
About Coin Operated Timer Board with LED Display
Coin Operated Timer Board with LED Display is to control power supply time and features with 4 digital LED display, 5pins coin connector design, easy to connect with the coin selector, and convenient system operation with switch buttons.

It can support RS232 signal or PULSE signal, can be set according to the signal of the coin selector. It is stability to setup time 0~2880 minute, and 0~59 seconds available, suitable for the machines as washing machine, massage chair, drink machine, car wash, vending machine, others arcade games, etc.

How to use:
1. Connect all loads and lines well.
2. Connect to external power, LED displays "0000".
3. Insert coins, LED displays the aggregate value.
4. When the amount deposited are enough, several seconds later (or press START button), the Output port "OUTPUT" has current, LED displays the total service time and this time will be counted down.
If press "START" button for 3 seconds, port "OUTPUT" will automatically cut off, the remaining time will be deleted to 0.
5. When time is up, port "OUTPUT" will automatically cut off, if there is balance, the balance will automatically be deleted to 0 after 30 seconds.
Coin Operated Timer Board with LED Display Product Details
input voltage: max AC220V (max current: 10A)
output max current: 10A
AC9V power transformer: supply working voltage to timer board, input voltage: AC9V or DC12V, input current: >600mA
pulse signal: 25~100ms (keep low electricity level pulse)
with 2 pins START button
4 digital LED display
time setting: 0~2880 minute available, 0~59 seconds
coin value: 1~200 is available
Coin Operated Timer Board with LED Display Other Details
| | |
| --- | --- |
| Product ID: | 011304 |
| Item Type: | Other |
| Country: | China |
| Available: | Stock |
| Condition: | New |
Coin Operated Timer Board with LED Display Images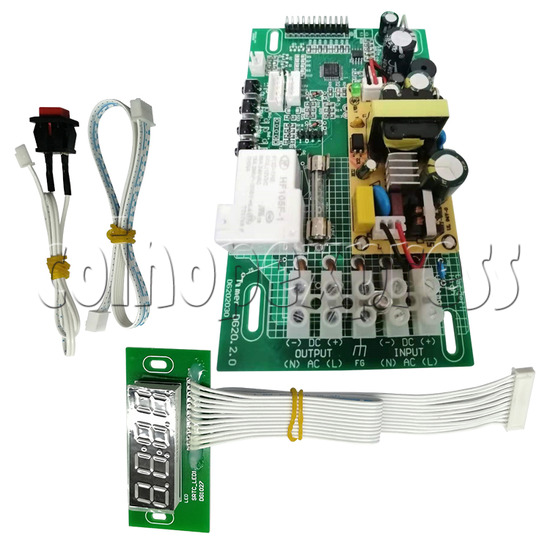 Coin Operated Timer Board with LED Display
Please Note: there is minimum order of $200USD (more info)