20 inch Arcade LCD Monitor LG 4:3 UXGA
About 20 inch Arcade LCD Monitor LG 4:3 UXGA
A professional 20.1 inch LCD Monitor designed for all arcade machines. This monitor offers a 4:3 viewing ratio with VGA and HDMI inputs and supports 15khz/31khz as well as high definition up to 1600 x 1200 UXGA resolution. Low response time, great colour depth and with full mounting frame, makes this monitor a great replacement for any arcade machine.

Get arcade ready with the 20.1 Inch LCD Arcade Monitor! which features LG A grade panel with 4:3 resolution, making it perfect for your old-school 15khz Jamma games as well as offering the ability to run the latest arcade games in high definition.

This professional 20.1 inch LCD arcade monitor offers RGB (15khz/31khz), VGA, and HDMI input support to a maximum resolution of UXGA 1600x1200. Together with mounting brackets and separate monitor adjustment board, installation is a breeze. Highly suitable for Lowboy machines, cocktail tables and other arcade products.

RoHs certified, this premium LCD arcade monitor comes with 2 years warranty.
20 inch Arcade LCD Monitor LG 4:3 UXGA Product Details
Monitor Specifications
Monitor Size: 20.1 inches
Resolutions: RGB (15Khz/31Khz) VGA 640x480 to UXGA 1600x1200
Colour Depth: 8bit, 16,7 M colours
Pixel Format: 1600 horizontal x 1200 vertical Pixels RGB stripe arrangement
Pixel Pitch: 0.255mm x 0.255mm
Luminance: White 300 cd/m2 (Center 1 point, Typ.)
Contrast Ratio: 800:1 (Typ.) (TM)
Response Time: 6.5 milliseconds
Viewing Angles: 89°/ 178°
Viewing-area Dimensions (cm's): 40.8(w) x 30.6(h)
Physical Ddimensions (cm's): 43.4(w) x 34.0(h) x 6.0(d)
Physical Dimensions with Mounting Frame (cm's): 48.0(w) x 34.0(h) x 6.0(d)
Weight (kg's): 5.20kg
Power: +12vDC 3.5A (100-240vAC)
Watts (w): Total 36.05 Watt(Typ.) (6.65 Watt@VLCD, 29.4 Watt@300cd/[LAMP=7mA])
Operating Temperature: TOP 0~50 °C 1
Storage Temperature: TST -20~60 °C 1
Operating Ambient Humidity: HOP 10~90 %RH 1
Storage Humidity: HST 10~90 %RH 1
Inputs: 1x HDMI, 1x VGA
Monitor Ports And Connections
1 x 9 pin Monitor Control Board Port
1 x HDMI Port
1 x Headphone Out Port (not available)
1 x VGA Port
1 x DC Power Connector
Menu Board Buttons And Indicator
1 x Menu Button
1 x Navigation DOWN Button
1 x Power Button
1 x Power LED (Green/Red)
1 x Navigation UP Button
1 x Auto Button
Full Set Include
1 x 20.1" Monitor
1 x Control Stick PCB (12cm cable)
1 x 9 Pin Extension Harness (1.6m Cable)
1 x VGA Cable
1 x +12vDC 3.5A (100-240vAC) Power supply
1 x Power Cable
2 x side mounted installation brackets
Dimensions And Weight
Viewing Area Dimensions: Height: 306mm (12.12"), Width: 408mm (16.14")
Physical Dimensions: Height: 334mm (13.4"), Width: 480mm (19.3"), Depth: 60mm (2.4"), Weight: 5.20kg (11.46lb)
20 inch Arcade LCD Monitor LG 4:3 UXGA Other Details
| | |
| --- | --- |
| Product ID: | 011335 |
| Item Type: | Monitors, Chassis |
| Country: | China |
| Available: | Stock |
| Condition: | New |
20 inch Arcade LCD Monitor LG 4:3 UXGA Images
20 inch Arcade LCD Monitor LG 4:3 UXGA full view
20 inch Arcade LCD Monitor LG 4:3 UXGA full view hdmi
20 inch Arcade LCD Monitor LG 4:3 UXGA full view 15k
20 inch Arcade LCD Monitor LG 4:3 UXGA front view
20 inch Arcade LCD Monitor LG 4:3 UXGA back view
20 inch Arcade LCD Monitor LG 4:3 UXGA bottom view
20 inch Arcade LCD Monitor LG 4:3 UXGA extended cable
20 inch Arcade LCD Monitor LG 4:3 UXGA menu board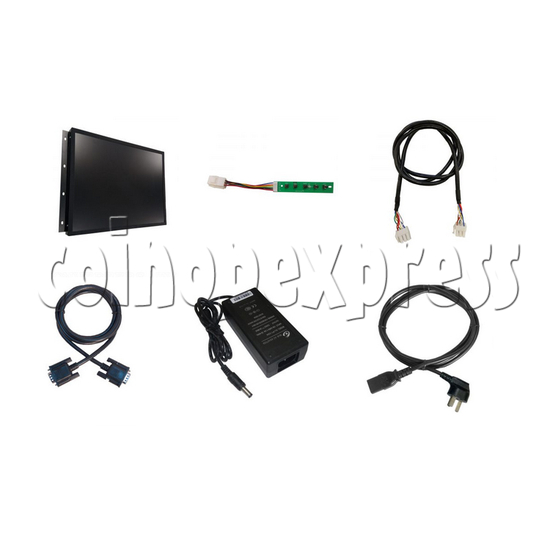 20 inch Arcade LCD Monitor LG 4:3 UXGA full set
20 inch Arcade LCD Monitor LG 4:3 UXGA dimension
Please Note: there is minimum order of $200USD (more info)