Illuminated Superior Joystick for Arcade Machine 37.28mm Diamond Ball Top
About Illuminated Superior Joystick for Arcade Machine 37.28mm Diamond Ball Top
Illuminated Superior Joystick for Arcade Machine 37.28mm Diamond Bubble Ball Top is with a latest design coming with a diamond type crystal ball top, features with different special restrict plate option, which installed with hold for 2 or 4 or 8 way restrict required, each bottom restrict plate is with simple solid construction for easier assembly required, connects the 5-pin connector to the machine 5-pin signal harness and connect 2-pin light cable with DC12V power, standard mounting and easy to set up on your arcade game machine. It will be an elegant product in the market.

It is made of high quality material, wear-resistant. Equipped with 5pins connectors for machine wiring which sets up on machine without melding work. Screw in 37.28mm diamond bubble ball top, you can refresh your panels by this crystal ball top.

Please note that different special restrict plate need to be purchased extra, factory configuration is circular restrict plate. There are two types of rod: longer rod (38.4mm) and shorter rod (28.4mm). If you place an order, please confirm which type you need.
Illuminated Superior Joystick for Arcade Machine 37.28mm Diamond Ball Top Product Details
power: DC12V
with 37.28mm knob/bubble top
high quality microswitch installed
2 way, 4 way or 8 way different special restrict plate for option (2way restrict plate is currently out of stock)
with longer rod (38.4mm) and shorter rod (28.4mm) for option
with thick terminal contact supports high contact reliability
with mounting plate included
with two 5 pins signal pins out connections
with a 2 pins DC12V light cable (welded to the joystick)
illuminated crystal colors ball top available
Illuminated Superior Joystick for Arcade Machine 37.28mm Diamond Ball Top Other Details
| | |
| --- | --- |
| Product ID: | 011649 |
| Item Type: | Joysticks |
| Country: | China (ex factory) |
| Available: | Stock |
| Condition: | New |
Illuminated Superior Joystick for Arcade Machine 37.28mm Diamond Ball Top Images
Illuminated Superior Joystick for Arcade Machine 37.28mm Diamond Ball Top front view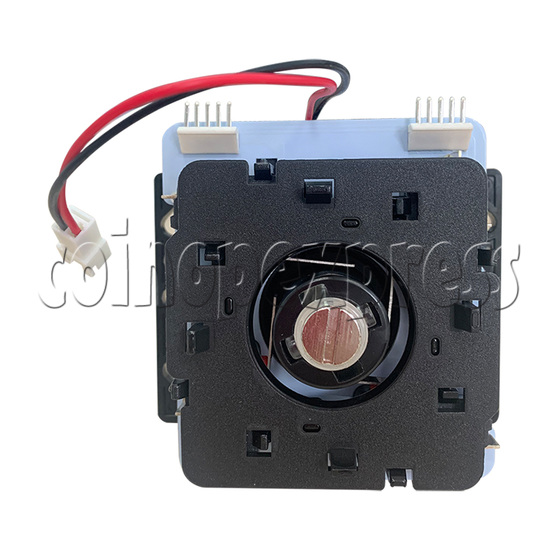 Illuminated Superior Joystick for Arcade Machine 37.28mm Diamond Ball Top bottom view
Illuminated Superior Joystick for Arcade Machine 37.28mm Diamond Ball Top special restrict plate
Illuminated Superior Joystick for Arcade Machine 37.28mm Diamond Ball Top longer rod diagram
Illuminated Superior Joystick for Arcade Machine 37.28mm Diamond Ball Top shorter rod diagram
Please Note: there is minimum order of $200USD (more info)