Coin Box Built-in Timer board and Coin Selector 3 type coins
About Coin Box Built-in Timer board and Coin Selector 3 type coins
Coin Box Built-in Timer board and Coin Selector 3 type coins is a coin-operated heavy-duty metal box, with lock and based on a large storage metal container for coins collection, mounted with a multi function timer board to control power supply time and a coin mech can be set with 3 groups of coins in different denomination with different signals.

Multi Function Timer Board is with 4 digital LED display, allows time limit management to precise and security automated controlling timer for coin selector by pass the coin operation.

Multi CPU coin selector is a 3-coins intelligent coin mech, with anti-string protection, anti-false coin, easier anti-jam opearted, with compared against function can be recognized or refused all worldwide coins and tokens, comes with durable plastic or solid metal front plate for optional.

This coin box set is popular used in many automated machines, such as amusement machines, vending machines, retail kiosks system, self checkout machines, transportation parking machines, and automatic fare collection machines, based on the number of coins the user insert.
Coin Box Built-in Timer board and Coin Selector 3 type coins Product Details
Multi Coin Mech:


3 coins 3 signals
apply to coin diameter: 17mm~30.5mm
apply to coin thickness: 1.25mm~3.2mm
work voltage: DC12VDC (Min: 10VDC, Max: 15VDC), current in 50mA, Max: 450mA
working temperature: 0℃ to 50℃
storage temperature: - 30℃ to 55℃
ambient humidity: up to 95% RH non-condensing
tilting validator and anti-string
with coin reject button, flush clean from coin jam
with self-diagnose
multi function CPU system identify the coin's material, thickness and diameter
optional for 5pins serial output and 10pins parallel output
cover optional: plastic cover and metal cover available
Multi Function Timer Board:


input voltage: max AC250V, max current: 10A
output max current: 10A
AC9V power transformer: supply working voltage to timer board, input voltage: AC9V or DC12V, input current: >600mA
with 5 pins connector for coin setting
coin signal: BYTE signal(2400bps , even, 8 data bits, 1 stop bit)or pulse signal
pulse signal: 25~100ms (keep low electricity level pulse)
with 2 pins START button
4 digital LED display
time setting: 0~120 minute available, 0~59 seconds
coin value: 1~200 is available
allow to set accumulative deposit amount for one timing unit to control power supply time
allow to set length of timing unit
when insert new coins, time for control power is accumulative
Coin Box:


LED displays time
net weight: 2.5kg/each
size: W205 x D95 x H260mm
coin box capacity about 500 coins (base on EUR1.00)
Coin Box Built-in Timer board and Coin Selector 3 type coins Other Details
| | |
| --- | --- |
| Product ID: | 009370 |
| Item Type: | Cash Handling |
| Country: | China (ex factory) |
| Available: | Stock |
| Condition: | New |
Coin Box Built-in Timer board and Coin Selector 3 type coins Images
Coin Box Built-in Timer board and Coin Selector (3 type coins) 29197
Coin Box Built-in Timer board and Coin Selector (3 type coins) 29198
Coin Box Built-in Timer board and Coin Selector (3 type coins) 29199
Coin Box Built-in Timer board and Coin Selector (3 type coins) 29200
Coin Box Built-in Timer board and Coin Selector (3 type coins) 29201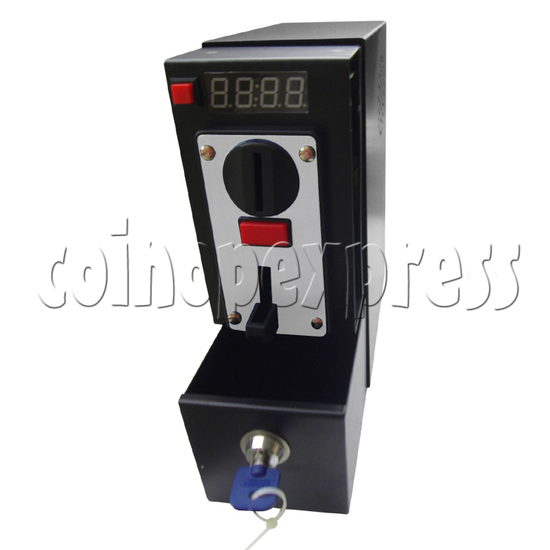 Coin Box Built-in Timer board and Coin Selector (3 type coins) 29202
Coin Box Built-in Timer board and Coin Selector (3 type coins) 29203
Please Note: there is minimum order of $200USD (more info)