Changeuro Multi Note-Coin Change Machine
About Changeuro Multi Note-Coin Change Machine
A change machine with a wide variety of features. This unit can dispense 3 different types of coins/tokens in exchange for notes/coins.

Easy access to loading procedure is provided by the rotating door. The machine can only be turned on and off by an internal switch, preventing tampering.

The hopper can be loaded by an additional door on top of the machine, thus avoiding access to the cashbox.

The standard unit has 3 hoppers, it can come with an optional 4 hoppers to dispense 4 different coin/token values.

By use of the programmer the machine can be altered to dispense any amount of coins/token for different money denomations be they Notes or Coins.

The machine can be programmed to dispense coins as Euro 10 dollar bill = 10 x Euro 1 dollar coins. Or as a bonus such as Euro 10 dollar bill = 12 x Euro 1 dollar coins.

Each dispensed coin/token can be any denomanation the operators require as all as it falls under the following specs:-
-Coin Diameter: from 20 mm. to 30 mm.
- or from 16 mm. to 20 mm.
Coin Tickness: da 1,5 mm. to 3,5 mm.

The unit comes with electronic account system which keeps track of all the vital statistics.

Other features include, Automatic threshold programming (e.g.Euro 10 threshold with Euro 0.10 coins, Euro 9.90 and below will require a manual dispenser button to dispense. However as soon as another Euro 0.10 coin is inserted making a total of Euro 10 automatic dispensing will occur.

Residual credit programmer with 3 available options (YES meaning residual credit will be held till next use) (DISABLED any residual credit will be wiped after each use)(TIMED any residual credit will be wiped after the operator specified time has elapsed)

There are also a number of configuration that are set to comply with different countries where this unit can be used these include: Language, Currency, Coin Accepted(8 possibles via the electronic coin validator)and Note Accepted (4 possibles via the Note reader).
Changeuro Multi Note-Coin Change Machine Product Details
Optional


Reader: Smiley IVO JCM
Coin validator: s.e.c.i. - N.R.I. - MARS
Key system: s.e.c.i. - COGES - FAGE
Changeuro Multi Note-Coin Change Machine Other Details
Product ID:
005253
Item Type:
Cash Handling
Country:
Europe
Available:
3~7 days
Condition:
New
Notes:
A stand is available for the changer for Euro180.00

Please note price display is for the 3 hopper model. Price of the 4 hopper model is Euro1800,00.
Changeuro Multi Note-Coin Change Machine Images
Changeuro Multi Note-Coin Change Machine 12100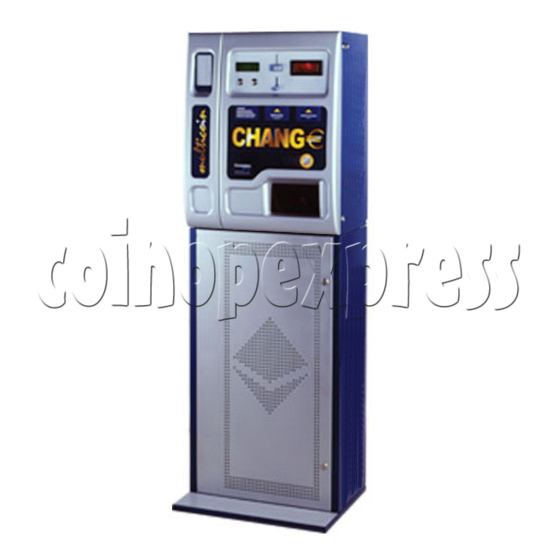 Changeuro Multi Note-Coin Change Machine 12101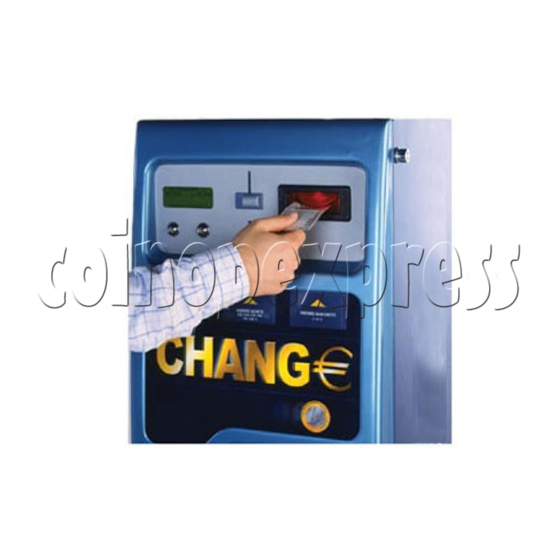 Changeuro Multi Note-Coin Change Machine 12102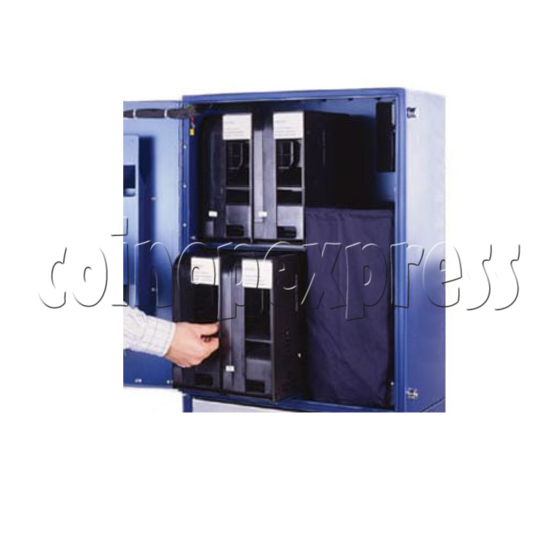 Changeuro Multi Note-Coin Change Machine 12103
Please Note: there is minimum order of $200USD (more info)