Multi-function EL Watches
About Multi-function EL Watches
This is a series of water resistance EL backlight sport watches. Push "light" button, dial will light with a 3-second delay electro-luminescent backlight. Standard display: hour, minutes, seconds, a.m., p.m., month, date, week. Two tones on the watch case. Unique, rich and colorful dial design.
Multi-function EL Watches Product Details
Light blue, dark green, purple, grey, mauve colorways are available.
Soft resin band
Approx. watch size: D220 x W38 (mm)
Approx. case size: 38mm x 38mm
Approx. case thickness: 11mm
Approx. watch net weight: 0.047kg
Resin or stainless steel buckle
Resin button
Water resistance
Shock resistance
Standard display: hour, minutes, seconds, a.m., p.m., month, date, week.
EL backlight function can keep 3 seconds.
Stopwatch stage timekeeping function
Alarm function
Sleepy function
Hourly chime function
Degree of accuracy at normal temperature: 45 second every month
Battery: 1.5V high-capacity alkaline Zn-Mn button battery
Life of battery to supply power for 18 months under the following situation: 1. 3 seconds of illumination everyday( 3 seconds per cold light) 2. 60 seconds of alarm everyday (60 seconds per alarm)
3 different styles as screen shots include in this series.
Minimum order quantity: can choose THREE different colors among 780 pieces.
Recommend for children 3 years up.
Packaging:


Each piece pack in an individual plastic bag.
26 pieces pack in an inner box,box size: W292 X D257 X H57 (mm) .
156 pieces per outer carton, carton size: W500 X D302 X H180 (mm), total 5 cartons for 780 pieces order.
Multi-function EL Watches Other Details
Product ID:
004117
Item Type:
Watches
Country:
China (ex factory)
Available:
2~4 weeks
Notes:
Please advice your needed quantity to our salesman for
best price .
Multi-function EL Watches Images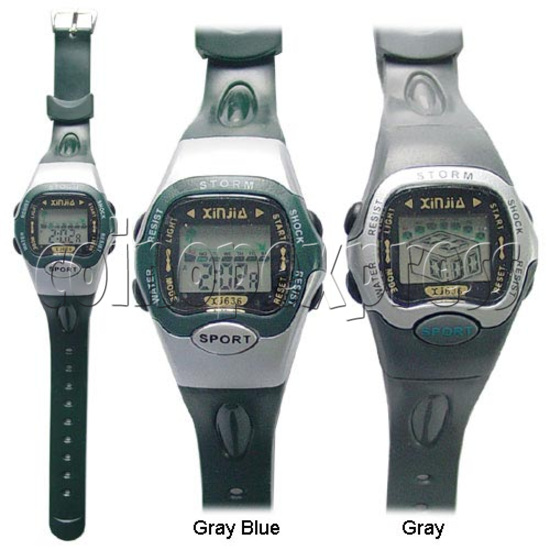 Multi-function EL Watches 11605
Multi-function EL Watches 11606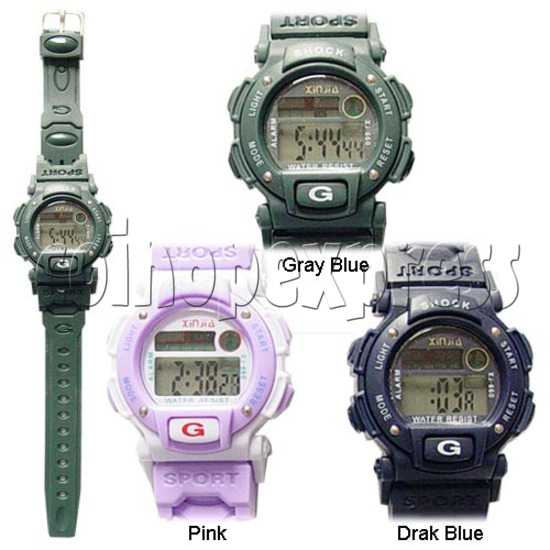 Multi-function EL Watches 11608
Multi-function EL Watches 11609
Please Note: there is minimum order of $200USD (more info)