Advertising LED Ball(MiraBall - 200mm with 8 colours)
About Advertising LED Ball(MiraBall - 200mm with 8 colours)
An Excellent piece of advertising sphere as it is 8 colors, it is a great gadget for both advertisers and for people looking to give a unique and cool gift. Pictures, cartoons and text will be displayed. The quality and software of the i-Ball is very good as the user can create many different things.
Advertising LED Ball(MiraBall - 200mm with 8 colours) Product Details
Specifications


Frame Pixel: (32+2) x 160
Display Color: Red + Green + Yellow + Blue + Purple + Cyan + White + Black
Body: Diameter 200mm polycarbonate bulb on coated ABS base
Memory: 4Mb
Interface for communication: Serial port(COM port).
Power supply: input AC~100V-240V, output 500 mA/18V, power about 9W, external power supply adapter
Background music source: 12 pieces of chord love songs
Optional digital voice player: space 16 M, compressing ratio 1:4, playing time 180 seconds, playing speed 8 bit x 8k/s
Speaker power: over 400MW
Flash memory read and write times: about 10,000 times
Electric motor: optional long life electric motor with or without brush
Rotating speed: 2300 revolutions/second
Type: Desk-top, brushless structure for power
Program: Through PC, notebook, mBox with software provided (Win95/98/ME/2000/XP)
Others


CCC, UL and CE approved for Power cable
product weight is 1030 gram
Warranty is 12 months after receipt of goods provide by factory
Package Includes


1 LED Display Ball
1 Power Supply
1 Power Cable
1 Serial Cable
1 CD Software
1 Instruction manual
Advertising LED Ball(MiraBall - 200mm with 8 colours) Other Details
Product ID:
007774
Item Type:
LED Display
Country:
China (ex factory)
Available:
2~4 weeks
Condition:
New
Notes:
Please advice your needed quantity to our salesman for
best price .
Advertising LED Ball(MiraBall - 200mm with 8 colours) Images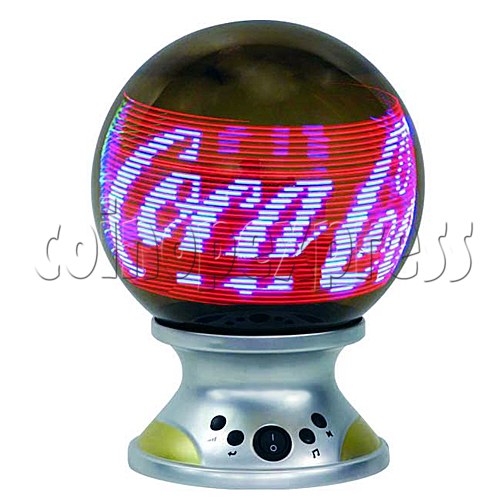 Advertising LED Ball(MiraBall - 200mm with 8 colours) 20841
Please Note: there is minimum order of $200USD (more info)