VR Agent Shooting Game Arcade Machine (2 Players Version)
About VR Agent Shooting Game Arcade Machine (2 Players Version)
VR Agent Shooting Game Arcade Machine (2 Players Version) is the world's first real VR shooting game, players can start the game without extra manual operation. The game provides an unprecedented immersive shooting game experience, equip with two 49" LCD screens, players in the first view, VR panoramic game, as a secret agent, destroy terrorist nests, to maintain world justice. The game provides a variety of scenes, and according to the story and encounter the enemy, the operation of different props to enter. Support 4 people online cooperation mode entry, the game is highly interesting, interactive. It's a rare innovation in commercial gaming.

Features:
1. The world's first commercial VR shooter.
2. Fully self-service unattended VR arcade machine, support 2 sets of connection, 4 people cooperate to enter the level.
3. Automatic VR positioning, automatic handle recovery, automatic UV disinfection design, simple, safe, health, full sense of science and technology.
4. Five scenes, a variety of game props, start the adventure to end evil.
5. The game operation is easy to understand, VR audio-visual support, more immersion.
6. Coin to start the game, you can open your secret agent moment.
VR Agent Shooting Game Arcade Machine (2 Players Version) Product Details
VR shooting game
2 players version cabinet
equip with two 49" LCD screens
support 2 sets machine link-up, 4 players cooperate to play the game
five scenes, multiple game props
player: 1~2 players
power: 1350W
dimension: W3500 x D2265 x H2400 mm
weight: 642kgs
VR Agent Shooting Game Arcade Machine (2 Players Version) Other Details
| | |
| --- | --- |
| Product ID: | 011547 |
| Item Type: | Virtual Reality Arcade VR |
| Country: | China |
VR Agent Shooting Game Arcade Machine (2 Players Version) Images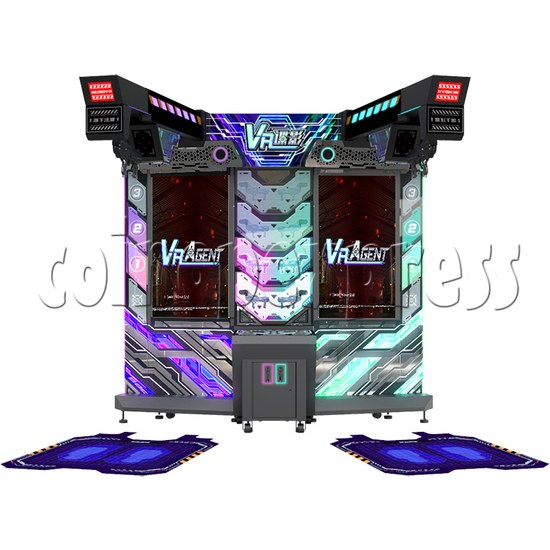 VR Agent Shooting Game Arcade Machine (2 Players Version)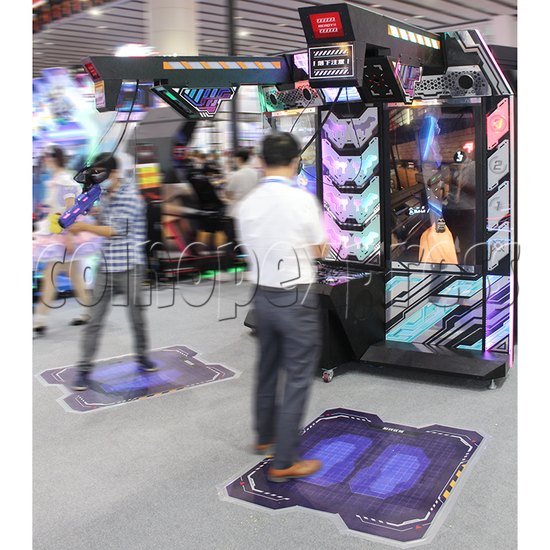 VR Agent Shooting Game Arcade Machine (2 Players Version) right view
VR Agent Shooting Game Arcade Machine (2 Players Version) front view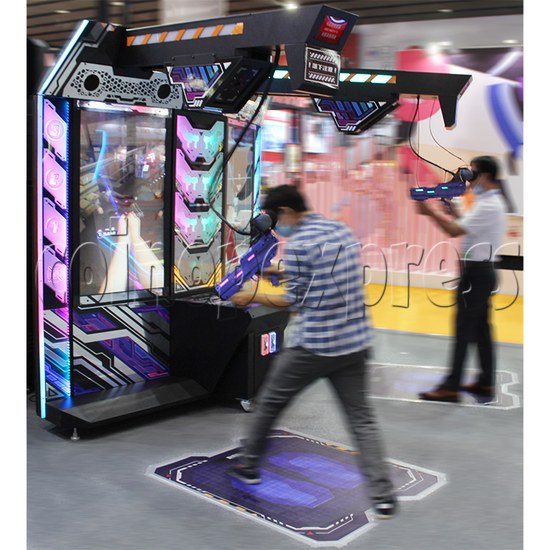 VR Agent Shooting Game Arcade Machine (2 Players Version) left view
VR Agent Shooting Game Arcade Machine (2 Players Version) play view
VR Agent Shooting Game Arcade Machine (2 Players Version) play view
Please Note: there is minimum order of $200USD (more info)