10D Virtual Cinema Virtual Reality Gaming Simulator (Two players)
About 10D Virtual Cinema Virtual Reality Gaming Simulator (Two players)
10D VR Cinema -Two Seats is a 2 players seats inside at the same time with VR glasses to show 360°movies, more than 8 movies for option, be immersed in realistic, simulated VR gaming experience.

10D VR Virtual Reality Simulator 2 players is the most advanced digital movie technology on the market which allows customers to truly experience a movie while watching. Motion chair will automatically swing up and down, roll ration with the film dynamic effects, how an exciting experiences to you, well can move you head to aim your target on the interactive film,then press the button to shoot it.

Main Features As Follows:
- Free vision
Bionic 125 ° field of view,1080P HD resolution two eyes independently, without dead ends brings you to enjoy the new funny world with real feelings.

- Interactive cabin with dynamic effects.
The moving speed of the cabin from 10mm / s to 167mm / s can be precise regulation, make you free to move in the new wonderful world.

- 360 ° rotating platform
Rotating platform is based on a high level freely.Once advancing, turning around, you can have fully experience of the real pleasure from the spatial displacement of the new funny world.

- Head tracking target
Built-in 9-axis sensor, 360 ° head tracking, you will feel your whole body into the world of film when turning around

- Rich content
Boundless Universal, Endless Ocean, Hail of bullets......Fantasy you ever dreamed of will come true now

- Not only watch the 10D VR movie, but also can play the interactive game. The exciting game will make us immersed and play it again and again

- Amazing virtual reality experiences
Explore every wonderful creation of our world, broadcast the moment at present, predict the future.

How to play:
- Seat into the rounded-shape cockpit, fasten safe belt, wear VR glasses, once help you choose the film what you like, start to watch;
- During watching, you can feel ear air,back vibration,air jet,button vibration,leg sweep, also your seat can swing up and down follow with the film dynamic effects, well just move your head to aim at your target,then press the button to shoot it. you can use your head control the direction you want, give you amazing virtual reality experiences.
10D Virtual Cinema Virtual Reality Gaming Simulator (Two players) Product Details
voltage: 110/220V
power:1.8KW
player: 1~ 2 players
stand-alone motion chair with LED
360°multi-freedom movement
space capsule design with patent
head movement tracking sensor
variety of simulation effects
full range of dynamic control system
multi - channels audio partition
safe Belt
control platform
intelligent operation handle
dynamic motion platform
design patent-space capsule
10D Virtual Cinema Virtual Reality Gaming Simulator (Two players) Other Details
| | |
| --- | --- |
| Product ID: | 009933 |
| Item Type: | Virtual Reality Arcade VR |
| Country: | China (ex factory) |
| Year Released: | 2015 |
10D Virtual Cinema Virtual Reality Gaming Simulator (Two players) Images
10D Virtual Cinema Virtual Reality Gaming Simulator (Two players) 34036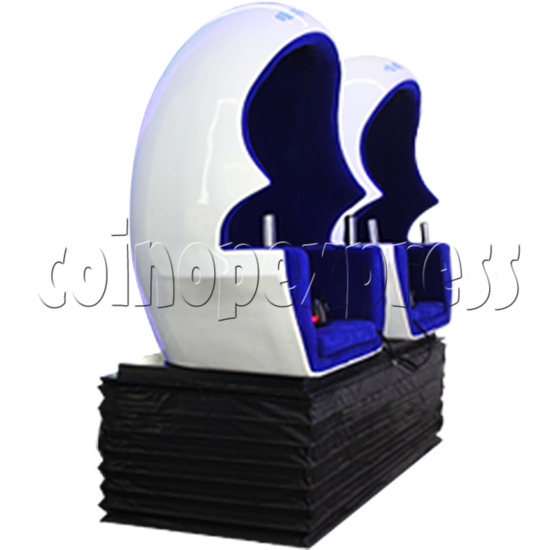 10D Virtual Cinema Virtual Reality Gaming Simulator (Two players) 34037
10D Virtual Cinema Virtual Reality Gaming Simulator (Two players) 34038
Please Note: there is minimum order of $200USD (more info)