About Super Scooter Machine
Super Scooter Machine, a popular scooter and video games will be combined with the children's puzzle game machine, gameplay is simple and easy to operate, very interesting, entertaining. The game scene is rich, the props are diverse, the ultra clear track environment and the personas bring the unparalleled visual experience for the players, stimulate the fun of the skateboard journey, set off with you!

Machine Features:
1. independent research and development of a sports machine, sports game new gameplay.
2. The inspiration of the novel design comes from the frog type children's scooter, which is a new way to play health, sunshine and sports.
3. sports games, easy to learn and easy to play, help to coordinate the balance of children.
4. 3D exquisite scene foil game atmosphere, sports and games combined, let the children can get exercise without leaving the house.
5. It has the function of taking photos, which will be displayed in the game after taking photos, and the ranking list will be conducted after the game ends.

Operation instruction:


1. The player COINS, with the steering wheel "start key" to enter the selection.
2. Camera takes photos of players and stores them in the game.
3. Select the "role" with the steering wheel, and then select the "competition scene"; Enter the game screen.
4. The player controls the "character" by holding the steering wheel and skateboard (the faster the feet move to pick up all kinds of props and COINS in the game, the faster the "character" moves), completes the race within the specified time, and obtains the corresponding votes.
5. The ranking of players who take photos according to their scores.
Super Scooter Machine Product Details
power: 300W
size: 170*96*190cm
weight: 150kg
Super Scooter Machine Other Details
| | |
| --- | --- |
| Product ID: | 011037 |
| Item Type: | Sport Games |
| Country: | China |
Super Scooter Machine Images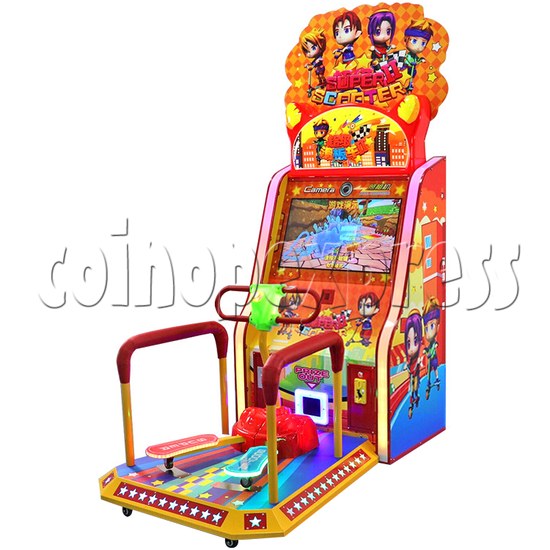 Super Scooter Machine - right view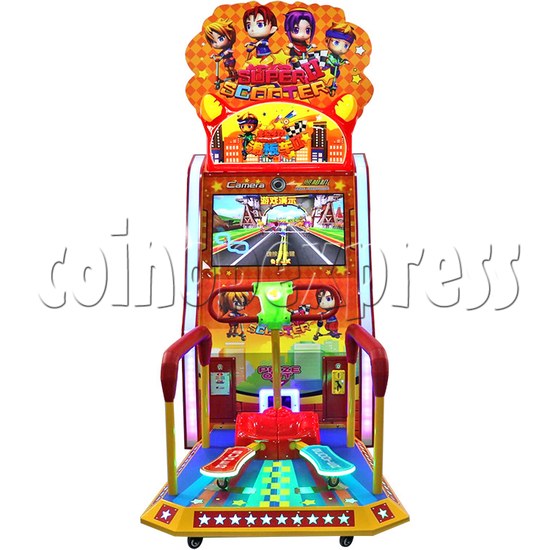 Super Scooter Machine - front view
Super Scooter Machine - left view
Please Note: there is minimum order of $200USD (more info)