Sega Mario & Sonic Rio 2016 Olympics Arcade Game (Twin)
About Sega Mario & Sonic Rio 2016 Olympics Arcade Game (Twin)
Sega Mario & Sonic Rio 2016 Olympics Arcade Edition Game is getting an arcade version release by Sega in Japan, plays with Sega Mario Sonic Olympics sport game, will feature events like soccer and table tennis, while its console counterpart will include games like rugby and beach volleyball, can be linked with four machines for competition game.

There's three types of characters, with stats focused on Power, Speed and Technique. The balanced characters, such as Mario; There's four different sports playable: 100 metres, Hammer Throw, Javelin Throw, Archery. There will be more playable characters and sports in the final version of the game.

The list of characters playable in this game, as following:
- Mario
- Luigi
- Peach
- Wario
- Sonic
- Tails
- Knuckles
- Shadow

How to play:

- player use their feet, for the events where they need to run;
- player can use two big joysticks, with a button on the side (which also serves as a Start button);
- a handrail, to use in order to keep your balance (while running, for example).

About more details on game play:

- 100 metres: you use the stick to "launch yourself" at the start, before starting to run. At the end, you have to time a jump.

- Hammer Throw: you have to press the button to hold the hammer, use the sticks to make the hammer rotate, and then you stop pressing the button at the right time to make your throw.

- Javelin Throw: you start by running, then use the right stick to control the angle of your throw.

- Archery: you have to throw arrows at nine targets, with more points awarded if they hit closer to the center. You use the left stick in order to aim, and the right stick in order to use the bow and shoot arrows. The amount of time you spend drawing your bow, as well as weather conditions such as the wind, can have an impact on the trajectory of your arrows.
Sega Mario & Sonic Rio 2016 Olympics Arcade Game (Twin) Product Details
sport arcade game
voltage: AC100V 300W
player: Twin player
can be linked up for four players
Sega Mario & Sonic Rio 2016 Olympics Arcade Game (Twin) Other Details
| | |
| --- | --- |
| Product ID: | 009916 |
| Item Type: | Sport Games |
| Manufacturer: | Sega |
| Country: | Japan |
| Year Released: | 2016 |
Sega Mario & Sonic Rio 2016 Olympics Arcade Game (Twin) Images
Sega Mario & Sonic Rio 2016 Olympics Arcade Edition Game 33853
Sega Mario & Sonic Rio 2016 Olympics Arcade Edition Game 33854
Sega Mario & Sonic Rio 2016 Olympics Arcade Edition Game 33855
Sega Mario & Sonic Rio 2016 Olympics Arcade Edition Game 33856
Sega Mario & Sonic Rio 2016 Olympics Arcade Edition Game 33857
Sega Mario & Sonic Rio 2016 Olympics Arcade Edition Game 33858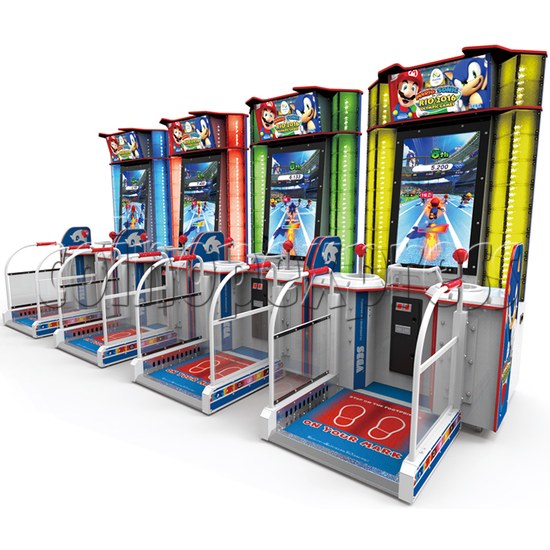 Sega Mario & Sonic Rio 2016 Olympics Arcade Edition Game 33859
Sega Mario & Sonic Rio 2016 Olympics Arcade Edition Game 33860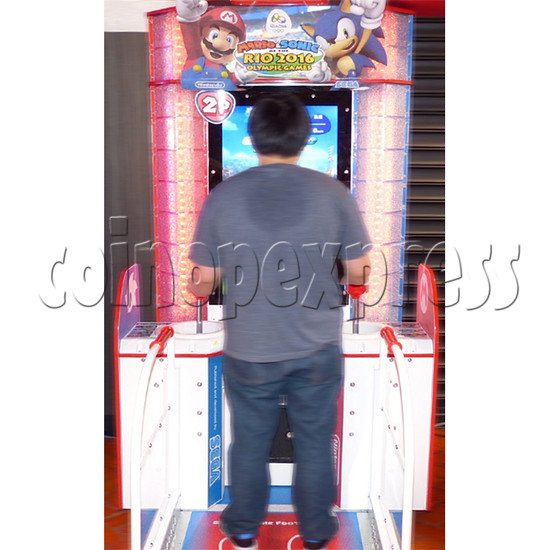 Sega Mario & Sonic Rio 2016 Olympics Arcade Edition Game 33861
Sega Mario & Sonic Rio 2016 Olympics Arcade Edition Game 33862
Sega Mario & Sonic Rio 2016 Olympics Arcade Edition Game 33863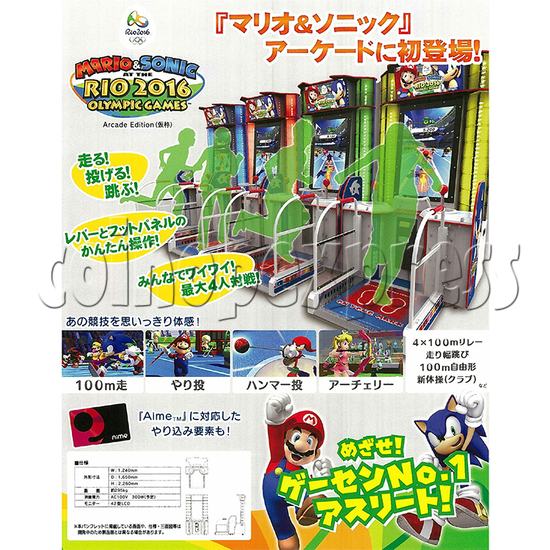 Sega Mario & Sonic Rio 2016 Olympics Arcade Edition Game 33864
Please Note: there is minimum order of $200USD (more info)