Let's Go Golf Sport Video Game
About Let's Go Golf Sport Video Game
Let's Go Golf is a sports video game for high-performance golf simulator released by Sega. It is a funny and powerful golf technology training or golf playing game from beginner to advancers.

This game designs to uses a camera with two sensors that can perform high speed shooting 2000 frames per second, hit the ball speed and strength, direction, and read the spin, the ball close to the actual trajectory can be reproduced on the screen.

It features in four exciting and attractive mode: game mode, training mode, coach training mode, stroke mode, contest mode as follow:

Game Mode (with five games):
- Distance: compete for distance.
- Closest to pin: toward a hole, and swing a stroke to win the game.
- Break shot: the glass floating in the air, broken pieces or compete in any driver shot.
- Shots balloon: aiming and shot to hit the balloons which are in different sizes, large and small to win corresponding scores.
- Bingo shot: to win at a perfect aim.

Training mode:
- self training: with 18 lessons of various types of professional communication from zhong jiang queen.
- coach training: 3 types of courses to choose from, you can practice shots in situations such as winds swing clubs and the various lines of your choice.

Stroke mode: set in 18 holes, great resort and the play time setting by (5 minutes, 10 minutes, 15 minutes, 20 minutes). It is up to four people can play simultaneously.

And it is with network function for play option, if you have a network environment, you can hold the convention established stores nationwide concatenation score attack. You can enjoy the game score at the same time competing. Participating stores, game time can be set freely.
Let's Go Golf Sport Video Game Product Details
Specification:


voltage: AC100V 50/60Hz
with 4 different modes: game mode, training mode, coach training mode, stroke mode, contest mode.
Full Machine Includes:


with control box
camera
sensors
projector
speaker(L / R)
Let's Go Golf Sport Video Game Other Details
| | |
| --- | --- |
| Product ID: | 008620 |
| Item Type: | Sport Games |
| Manufacturer: | Sega |
| Country: | China |
| Year Released: | 2010 |
Let's Go Golf Sport Video Game Images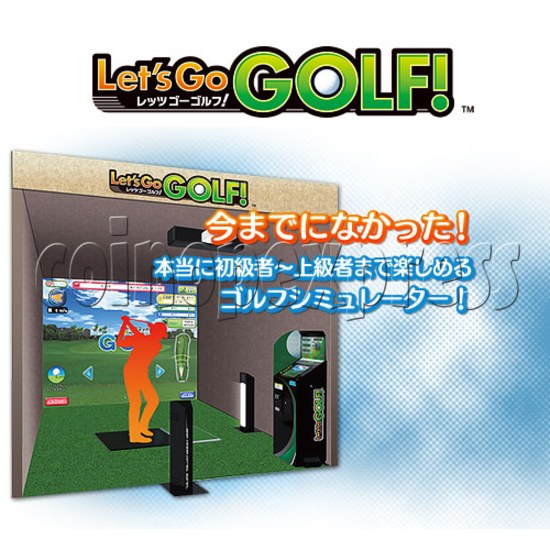 Let's Go Golf Sport Video Game 24681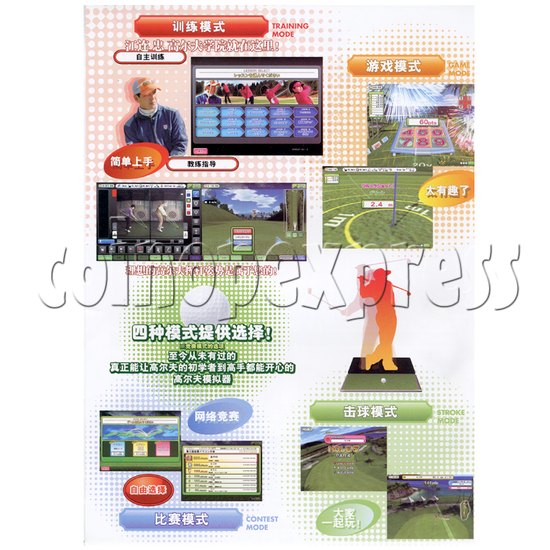 Let's Go Golf Sport Video Game 24682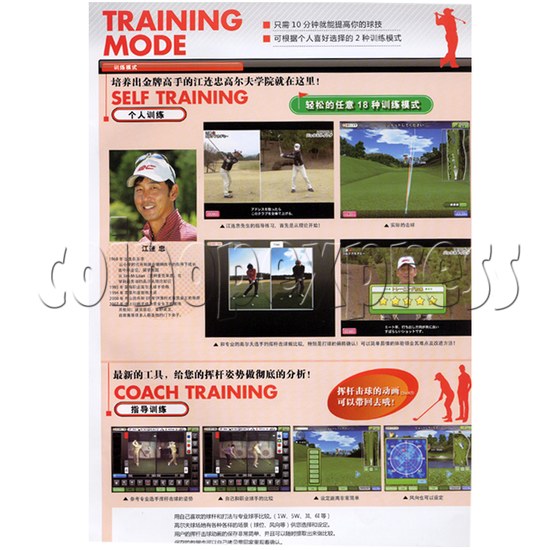 Let's Go Golf Sport Video Game 24683
Let's Go Golf Sport Video Game 24684
Please Note: there is minimum order of $200USD (more info)