Olympic Outdoor Football Table (Top Glass)
About Olympic Outdoor Football Table (Top Glass)
All-weather glass-topped coin operated football table. Intended for outdoor use in all weather conditions, Olympic outdoor uses water-proof components and materials. Recommended for playgrounds, beaches, swimming-pool areas, minigolfs, camping-sites, fun-fairs and other outdoor places.
Olympic Outdoor Football Table (Top Glass) Product Details
Equipment


Playing field : 120.00 x 70.50 cm
Cabinet manufactured in water-proof plywood, thickness 30mm (1 1/4") covered with plastic laminate using a special water-proof glue for perfect sealing.
New type inclined metal legs covered with water-proof washable powder-varnish.
Inox steel (25 NC 6) solid rods (diameter 16 x 2.3mm) with high stress resistance (R = 100 Kg x mm2). One-colour (blue/red) moplen players moulded to the rods. On request three-colour selflocking players in red-black-pink and blue-black-pink. Inox steel telescopic rods for greater safety also available.
Nylon bushes with inox steel ball bearings for high speed action, smoother play and reduced wear and tear.
Playfield of water-proof green formica with white lines silk-screen printed with waterproof ink: it does not fade under the sun and is not damaged by dampness. Playfield detachable from upper cabinet by means of two locks to enable lowering for internal cleaning and inspection.
Holders for glasses, bottles or cans at each end. Score counters with red/blue cubes.
The table is covered using tempered anti-break glass. This reduces noise, keeps playing area clean and prevents tampering and theft of balls.
Theft proof, easy-to-clean ashtrays secured by retractable metal cables.
Score counters with red/blue cubes.
Bolts, nuts and screws with tropical anti-rust treatment.
Standard mechanical coin mechanism with anti-rust aluminium frontplate, set for any kind of coin or token.
Options


Olympic Outdoor Football Table (Top Glass) Other Details
| | |
| --- | --- |
| Product ID: | 002449 |
| Item Type: | Soccer - Foosball Tables |
| Manufacturer: | Garlando |
| Country: | Italy (ex factory) |
| Notes: | For the large order quantity, please contact us for pricing |
Olympic Outdoor Football Table (Top Glass) Images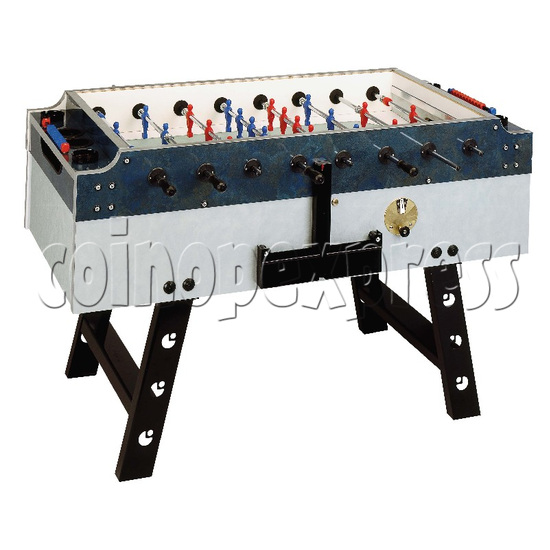 Olympic Outdoor Football Table (Top Glass) 5498
Olympic Outdoor Football Table (Top Glass) 5499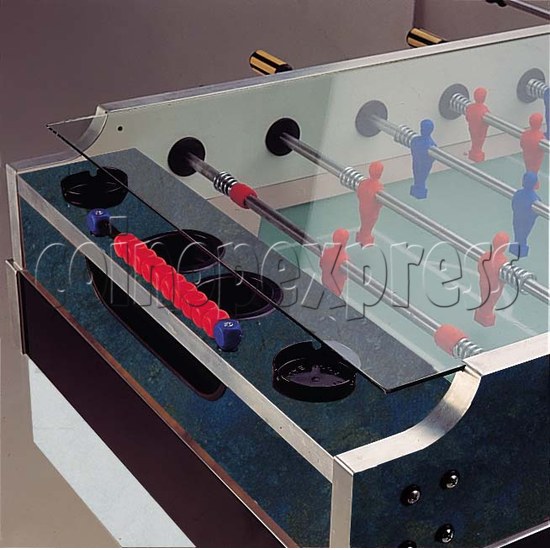 Olympic Outdoor Football Table (Top Glass) 5500
Please Note: there is minimum order of $200USD (more info)