Mystery Island 3D Shooting Game machine (2 players)
About Mystery Island 3D Shooting Game machine (2 players)
Mystery Island 3D Shooting Game machine (2 players) is a 2D mode and 3D mode switch freely double cooperation shooting game. Features with a high-definition large screen, 2 luxurious guns installed and the sensitive steering wheel, the comfortable double seats and vibrant three-dimensional surround sound, gives the players the unusual experience.

The game total of five levels includes: empty floating islands, dinosaur forest, spider nest, rapid water attack and mystery island. Cooperates with energy crystal stone, life treasure box, double shooting and other props greatly increase the strength of players. Sensitive steering wheel operation and in-game animated scenes make players enjoy a wonderful game time.

How to play:
- Insert coins, and press the start button to start the game.
- Choose the 2D mode or 3D mode, and choose the level enter into the game.
- Shooting the monsters which appears on the screen, if player attacked by monsters, the player's life will be reduced.
- When the steering wheel operation tip appears on the screen, turn the steering wheel rapidly according to the prompt.
- Shooting ability crystal stone, treasure box, can increase damage and life.
Mystery Island 3D Shooting Game machine (2 players) Product Details
light-guns shooting game
2D mode and 3D mode switch freely
with a large high-definition screen
equip with 2 luxurious guns and 2 steering wheels
twin bench-type seat
total of 5 levels
player: 1~2 players
high quality coin selector installed
Mystery Island 3D Shooting Game machine (2 players) Other Details
| | |
| --- | --- |
| Product ID: | 010344 |
| Item Type: | Shooting Games |
| Country: | China (ex factory) |
Mystery Island 3D Shooting Game machine (2 players) Images
Mystery Island 3D Shooting Game machine (2 players) 37329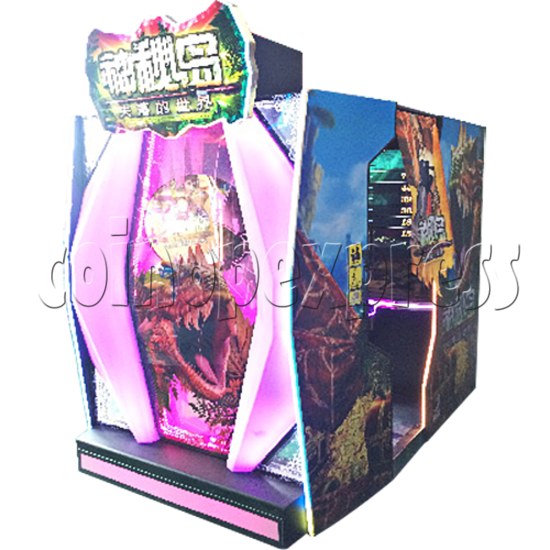 Mystery Island 3D Shooting Game machine (2 players) 37330
Mystery Island 3D Shooting Game machine (2 players) 37331
Mystery Island 3D Shooting Game machine (2 players) 37332
Mystery Island 3D Shooting Game machine (2 players) 37333
Mystery Island 3D Shooting Game machine (2 players) 37334
Please Note: there is minimum order of $200USD (more info)