Iron Heart Arcade Simulation Gun Shooting Machine
About Iron Heart Arcade Simulation Gun Shooting Machine
Iron Heart Arcade Simulation Gun Shooting Machine is an exciting gun shooting game with rich story lines, 52 Inch LCD screen, fine picture quality, three-dimensional surround sound effect and shocking battle scenes. It brings players a kind of immersive audio-visual experience.

By controlling the light gun to attack the target, challenge the next level after completing the task, and finally challenge the grand prize. The brand-new vibrating machine gun, detailed characterization, various explosions, the sound of gunshots, different scenes, all makes the game more like actual battle.

The design of multiple levels gives players different feelings.

How to Play:
1. Insert coin.
2. Select the game mode, single or competitive mode, then start the game.
3. Shoot the enemy to win the score at the certain time, player will go to next level if the score enough.
Iron Heart Arcade Simulation Gun Shooting Machine Product Details
Voltage:110V-220V
Power: 418W-600W
52" LCD Screen
1 ~ 2 players
Used and good working reconditioned machine
With 14 days warranty
Iron Heart Arcade Simulation Gun Shooting Machine Other Details
| | |
| --- | --- |
| Product ID: | 010811 |
| Item Type: | Shooting Games |
| Manufacturer: | Universal |
| Country: | China |
| Year Released: | 2013 |
Iron Heart Arcade Simulation Gun Shooting Machine Images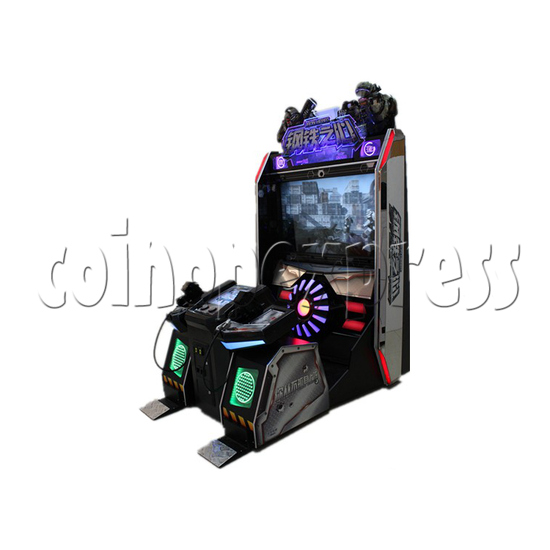 Iron Heart Arcade Simulation Gun Shooting Machine - right view
Iron Heart Arcade Simulation Gun Shooting Machine - side view
Please Note: there is minimum order of $200USD (more info)