Big Teeth Monkey Shooting Game Ticket Redemption Machine
About Big Teeth Monkey Shooting Game Ticket Redemption Machine
Big Teeth Monkey Shooting Game Ticket Redemption Machine is a solid ball shooting mode game, jungle themes cabinet that stands out. Machine design the large theme play field with interactive monkey teeth, and installed two shooters. Play as soon as possible to knock out the teeth to light up and win the scores to get corresponding tickets; The game total include common mode, customs clearance mode, battle mode three game modes, increase interest and interactively of the game.

common mode:
Play the game within the game time, earn as many points as possible in a limited amount of time, convert to the corresponding tickets.

customs clearance mode:
This mode a total of 3 levels, each level has its own characteristic and difficulty from low to high, each level game time can be setting and the time of each level is the same.

battle mode:
For parent-child interaction add the battle mode, two players compete against each other.

How to play:
- insert coins to the coin entrance, press the start button to start the game.
- player control the gun to shooting down the monkey teeth which light up difference colors to get the corresponding scores.
- the game time over, player according to the scores to get the corresponding tickets, and the game over.
Big Teeth Monkey Shooting Game Ticket Redemption Machine Product Details
balls shooting ticket redemption game
install two shooting guns
with LED display
a total of 3 game modes
player: 1 ~ 2 players
high quality coin selector and ticket dispenser installed
Big Teeth Monkey Shooting Game Ticket Redemption Machine Other Details
| | |
| --- | --- |
| Product ID: | 010090 |
| Item Type: | Shooting Games |
| Country: | China |
| Year Released: | 2017 |
Big Teeth Monkey Shooting Game Ticket Redemption Machine Images
Big Teeth Monkey Shooting Game Ticket Redemption Machine - left view
Big Teeth Monkey Shooting Game Ticket Redemption Machine - control panel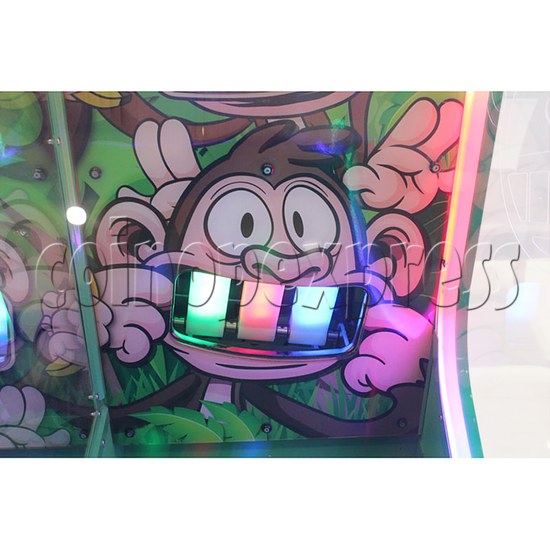 Big Teeth Monkey Shooting Game Ticket Redemption Machine - playfield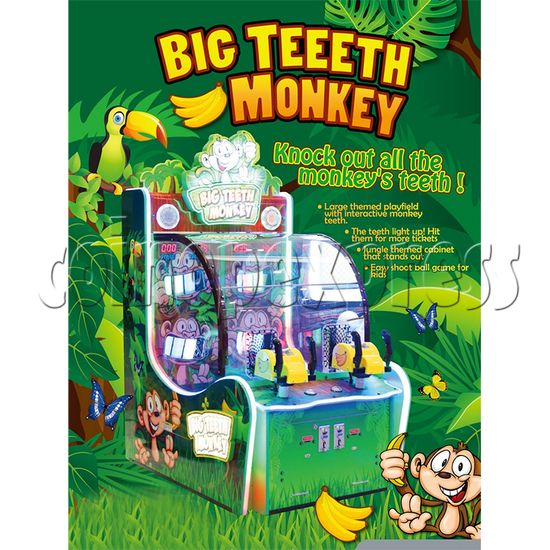 Big Teeth Monkey Shooting Game Ticket Redemption Machine - catalogue
Please Note: there is minimum order of $200USD (more info)