Adventure Hunter Shooting Arcade Game (4 players)
About Adventure Hunter Shooting Arcade Game (4 players)
Adventure Hunter Shooting Arcade Game is a simulation video shooting game with tent in theater-style cabinet, designs for 4 players games positions with leader boards, players use the simulation of long shotgun targeting on the animals which displays from the 140 inch HD projection screen then take the shot. The game features with the wild environment as the design elements of appearance, and the simulation game hunting scenes, game gives players realistic stimulation experience and a sense of achievement from the shooting going hunting.

How to play:
- insert coins, and entered the game tutorial.

- start the game, automatic selection game scene.

- players use a shotgun shot at the animals on the game screen, get scores.

- ranks the players according to the shooting scores.
Adventure Hunter Shooting Arcade Game (4 players) Product Details
video shooting game
player: 1~4 players
deploy 140 inch HD projection screen
with 4 simulation of the elongated shotguns
have 3 hunting scenes
each hunting scene have more than a dozen design, representative animals
system ranking after the game
high quality coins elector installed
Adventure Hunter Shooting Arcade Game (4 players) Other Details
| | |
| --- | --- |
| Product ID: | 010009 |
| Item Type: | Shooting Games |
| Country: | China (ex factory) |
Adventure Hunter Shooting Arcade Game (4 players) Images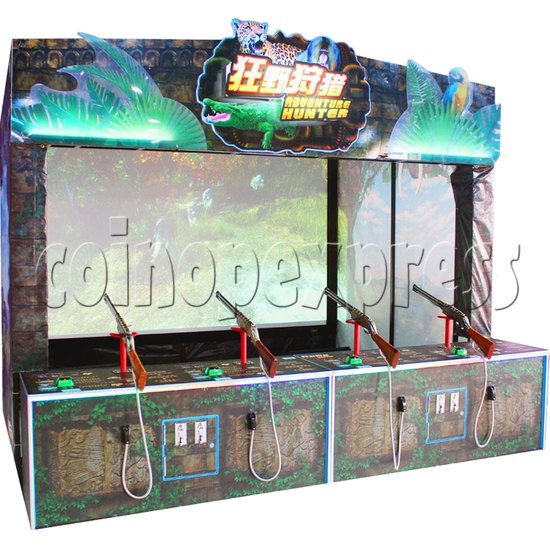 Adventure Hunter Shooting Arcade Game (4 players) 34670
Adventure Hunter Shooting Arcade Game (4 players) 34671
Adventure Hunter Shooting Arcade Game (4 players) 34672
Adventure Hunter Shooting Arcade Game (4 players) 34673
Adventure Hunter Shooting Arcade Game (4 players) 34674
Please Note: there is minimum order of $200USD (more info)