Tight Rode Skill Test Ticket Redemption Video Game Arcade Machine 2 players
About Tight Rode Skill Test Ticket Redemption Video Game Arcade Machine 2 players
Tight Rode Skill Test Ticket Redemption Video Game Arcade Machine 2 players is a simulation of sports game which simulate a unicycle to avoid all kinds of obstacles on the road. Feature with a 42" high-definition show the game graphics, machine design both consoles for players to choose single play or battle play. Design the bright custom lighting for the wheel driver, and with the vibrating effect, for players a unique and realistic game experience, to give player a feeling of actually being there.

The game design with a rider of male on the left and a rider of female on the right, with three game scenes that urban scene, relic scene, sea scene for the player choose, players ride on the road, use skill to avoid obstacles flexibly, to experience unprecedented thrill and joy, enjoy the charm of this competitive game.

How to play:
1. player insert coins into the coin entrance, press the start button enter into the screen to choose game modes, have single play mode and battle play mode for option.
2. press the start button enter into the screen to choose the game scenes, have urban scene, relic scene, sea scene three scenes for option, press the start button again to start the game.
3. start the game, player hold the handle to turns the wheel fast, slow, forward or backward to control the unicycle during the game.
4. avoid all kinds of obstructions, so that unicycle can drive through a roadblock on the road and eventually reach the destination, the light rotates with the wheel, if hit an obstacle, the wheel will vibrate and deducting the energy of the rider.
5. When player ride a certain distance, can get a corresponding reward, if the energy runs out and the game over, and the machine exit the tickets according to the scores of player win in the game.
Tight Rode Skill Test Ticket Redemption Video Game Arcade Machine 2 players Product Details
simulation of sports skill test video game
player: 1~2 players
with a 42 inch HD screen
three game scenes for option, include urban scene, relic scene, sea scene
single play mode and battle play mode two modes for option
wheel with change the lighting effect and vibration effect.
with high quality coin selector and ticket dispenser installed
Tight Rode Skill Test Ticket Redemption Video Game Arcade Machine 2 players Other Details
| | |
| --- | --- |
| Product ID: | 010233 |
| Item Type: | Redemption Machines |
| Country: | China (ex factory) |
| Year Released: | 2018 |
Tight Rode Skill Test Ticket Redemption Video Game Arcade Machine 2 players Images
Tight Rode Skill Test Ticket Redemption Video Game Arcade Machine 2 players 36492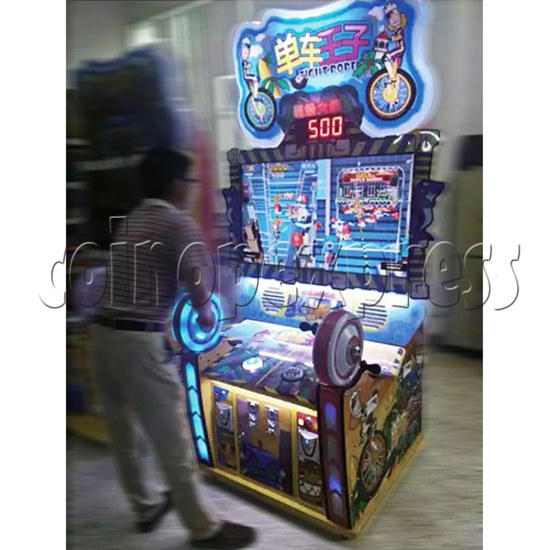 Tight Rode Skill Test Ticket Redemption Video Game Arcade Machine 2 players 36493
Please Note: there is minimum order of $200USD (more info)