Monster Drop Ticket Redemption Arcade Machine 2 Players
About Monster Drop Ticket Redemption Arcade Machine 2 Players
Monster Drop Ticket Redemption Arcade Machine 2 Players is an advance slam a winner game play, designs for two players in one time, a drop of the high energy ball, it will fall through the Jackpot hole, the mystery value hole, or ticket win values hole......then win corresponding tickets.

How to play:
- insert coin, press start button, then one ball will drop down from top.
- ball will go into different hole, such as different score hole: Add bonus ball, Drop bonus ball hole, Mystery value ball hole and Jackpot hole.
- there is an immobile hole in the middle of the turntable, once ball drop into this hole, players' cumulative score will be double.
- game over, it will pay out tickets according to players score and the player can exchange prize or coins by the service counter.
Monster Drop Ticket Redemption Arcade Machine 2 Players Product Details
voltage: AC110/AC220V
drop down an high energy ball to score hole game
turntable with different score hole: Add bonus ball, Drop bonus ball hole, Mystery value ball hole and Jackpot hole.
attractive cabinet with dynamic sound effects
setup high quality coin selector and ticket dispenser
Monster Drop Ticket Redemption Arcade Machine 2 Players Other Details
| | |
| --- | --- |
| Product ID: | 009650 |
| Item Type: | Redemption Machines |
| Country: | China |
Monster Drop Ticket Redemption Arcade Machine 2 Players Images
Monster Drop Ticket Redemption Arcade Machine 2 Players - angle view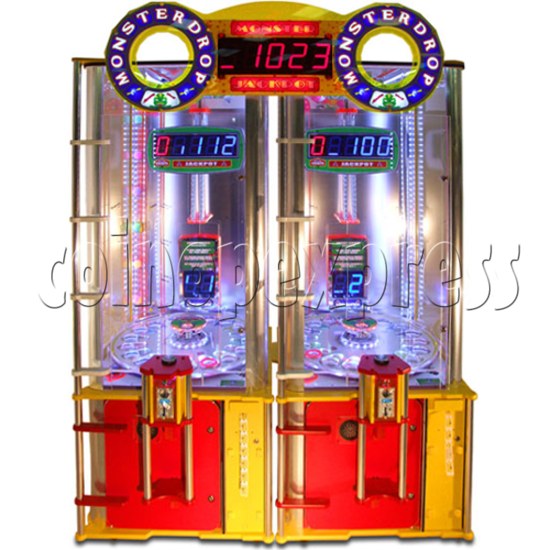 Monster Drop Ticket Redemption Arcade Machine 2 Players - front view
Monster Drop Ticket Redemption Arcade Machine 2 Players - playfield
Monster Drop Ticket Redemption Arcade Machine 2 Players - how to play
Monster Drop Ticket Redemption Arcade Machine 2 Players - score turntable
Monster Drop Ticket Redemption Arcade Machine 2 Players - JACKPOT hole
Monster Drop Ticket Redemption Arcade Machine 2 Players - score holes
Please Note: there is minimum order of $200USD (more info)