Kick Mania Soccer Game Ticket Redemption Arcade Machine
About Kick Mania Soccer Game Ticket Redemption Arcade Machine
Kick Mania Soccer Game Ticket Redemption Arcade Machine is an interactive soccer shot ticket redemption machine which take the football elements as the design theme. Double cabinet design support two players enjoy the game at the same time, increase interactivity and entertainment. Mechanical screen design for show the player's real-time facts and figures. Console is designed with the shooting button for release the football, and the field is designed with movable goalkeeper, player plays a super shooter, seize the moment to shoot the ball into the goal and win the tickets. The game is simply and fun, novel gameplay and simple operation loved by everyone.

Kick Mania designed rich character action, and a variety of lovely characters, give players vivid and interesting screen experience. A variety of small games combined, shooting, passing, and the accumulation of trophies to win JP award, making the game more challenging. This machine applicability to various places and all ages of players, suitable for parent-child and friend interaction.

How to play:
- player insert coins to start the game.
- Player aim at the movable goalkeeper and press the button at the right time to release the football.
- when the goalkeeper and goal overlap, and the ball smoothly into the goal, player can get the corresponding reward or enter a special game.
- if the football doesn't shoot into the goal, the football will fall into the nail field, after colliding, moving and finally entering a specific hole to win a small reward.
- when the number of footballs is reduced to zero, the game is over and the player gets the corresponding tickets.
Kick Mania Soccer Game Ticket Redemption Arcade Machine Product Details
soccer game ticket redemption game
voltage: 110V / 220V
player: 1-2 players
equip with a 27" LCD screen
combining entertainment and sport football game
high quality coin selector and ticket dispenser installed
Kick Mania Soccer Game Ticket Redemption Arcade Machine Other Details
| | |
| --- | --- |
| Product ID: | 010670 |
| Item Type: | Redemption Machines |
| Country: | Asia |
Kick Mania Soccer Game Ticket Redemption Arcade Machine Images
Kick Mania Soccer Game Ticket Redemption Arcade Machine - angle view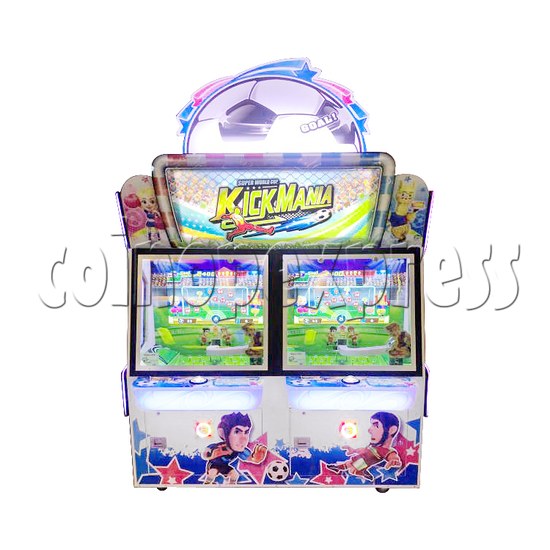 Kick Mania Soccer Game Ticket Redemption Arcade Machine - front view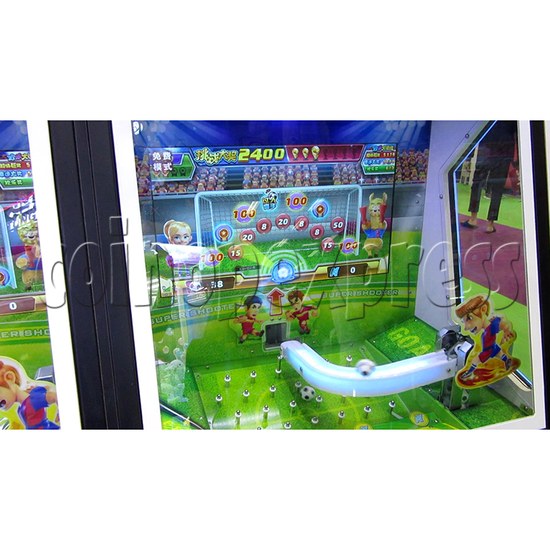 Kick Mania Soccer Game Ticket Redemption Arcade Machine - playfield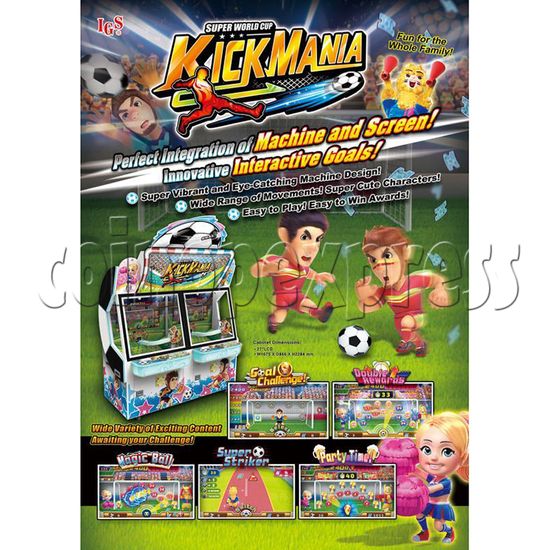 Kick Mania Soccer Game Ticket Redemption Arcade Machine - catalogue
Please Note: there is minimum order of $200USD (more info)