Dragon Hunter Ball Shooting Ticket Redemption Arcade Machine
About Dragon Hunter Ball Shooting Ticket Redemption Arcade Machine
Dragon Hunter Ball Shooting Ticket Redemption Arcade Machine is a 3D VR view shooting game, feature with lifelike dinosaur and luxurious cabinet design, suitable for the children over 5 year old. Equip with high-definition 42" LCD screen with 3D VR special visual effects. Install two durable guns on the control panel with the variable frequency shooting speed function, and match spacious double seats make players more comfortable to experience the game. The game design with 6 game levels for option, feature with different props to change different shooting speed, so that players have a richer experience. The game is fun and exciting, keep all the players eyeball.

Players insert coins and press start button enter the game, select the game level and start the game. Players control the gun to shooting the cartoon dragon stop them from attacking on the screen. Shooting the cartoon dragon, the cartoon dragon convert into awards or scores to increase the player's scores. During the game, accelerate prop may drop, shooting the props to increase the ball shooting, and the gun speed up shooting as fast as 500 balls/minute. Players shooting the dinosaurs on the screen by the gun, win the scores.

At the end of the game, players will receive the corresponding tickets based on their scores.
Dragon Hunter Ball Shooting Ticket Redemption Arcade Machine Product Details
shooting ticket redemption game
suitable for over 5 years old
dragon theme appearance design
equip with HD 42" screen
2 stable guns installed
design with 6 game levels
with accelerate prop
ball shooting speed up to 500 balls/minute
high quality coin selector and ticket dispenser installed
player: 1~2 players
voltage: 110V / 220V
dimension: W1080 x D2400 x H2000 mm
weight: 300KGS
power: 350W
Dragon Hunter Ball Shooting Ticket Redemption Arcade Machine Other Details
| | |
| --- | --- |
| Product ID: | 010702 |
| Item Type: | Redemption Machines |
| Country: | Asia |
Dragon Hunter Ball Shooting Ticket Redemption Arcade Machine Images
Dragon Hunter Ball Shooting Redemption Game machine - angle view
Dragon Hunter Ball Shooting Redemption Game machine - front view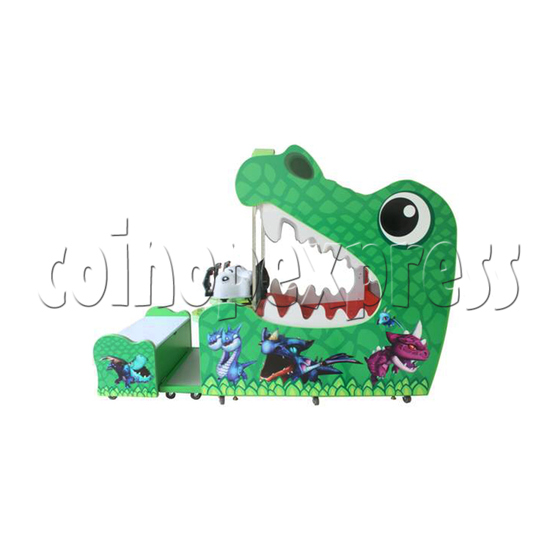 Dragon Hunter Ball Shooting Redemption Game machine - right side view
Dragon Hunter Ball Shooting Redemption Game machine - left side view
Please Note: there is minimum order of $200USD (more info)