Castle Shootout Skill Test Game Machine
About Castle Shootout Skill Test Game Machine
Castle Shootout Skill Test Game Machine is a strategy game that imitate the catapult of cold weapon age to fight, which destroyed the castle and destroyed the evil king to relieve the civilians under the evil king. Feature with that ingenious control the projector play the game by the handle, pull down the handle to shoot out ball to destroy the castle and win the corresponding scores. Machine appearance design with the castle as the theme, make player experience mysterious and exciting game.

How to play:
- insert coins and start games;
- each level has a chance to fire a fireball.
- use skill moderate to pull the handle, throw the hammer at one end of the projectile's arm and throw the fireball that in the projectile on the other end to the castle.
- when the fireball into the letter box of castle, player can get the corresponding scores.
- Total of five castles in all, knock down all the castles and win the final victory, attack on the king can win a super award.
- When the game over, machine reward the corresponding tickets according to the scores of player win in the game.
Castle Shootout Skill Test Game Machine Product Details
skill test pull handle game
player: single player
with a 21.5" LCD screen
with LED display the scores
install a pull rod device
equip with a simulated catapult
total of 5 castles
control type: pull handle
with high quality coin selector and ticket dispenser installed
Castle Shootout Skill Test Game Machine Other Details
| | |
| --- | --- |
| Product ID: | 010234 |
| Item Type: | Redemption Machines |
| Country: | China (ex factory) |
Castle Shootout Skill Test Game Machine Images
Castle Shootout Skill Test Game Machine 36494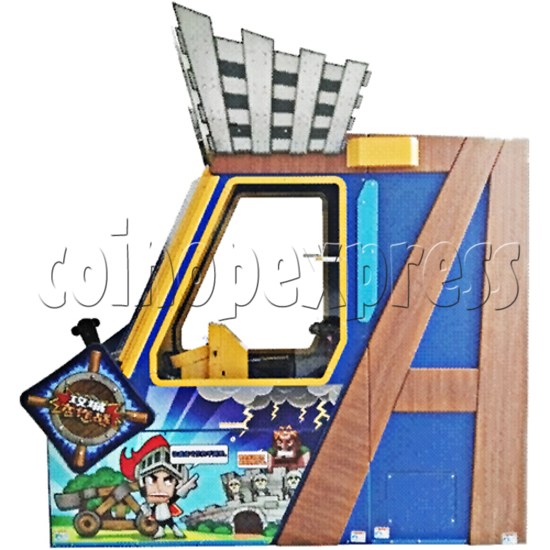 Castle Shootout Skill Test Game Machine 36495
Castle Shootout Skill Test Game Machine 36496
Castle Shootout Skill Test Game Machine 36497
Castle Shootout Skill Test Game Machine 36498
Please Note: there is minimum order of $200USD (more info)