Snow Ball Drop Ticket Redemption Game Machine 2 Players
About Snow Ball Drop Ticket Redemption Game Machine 2 Players
Snow Ball Drop Ticket Redemption Game Machine 2 Players is an indoor coin-operated entertainment game which player drop the ball into the reward hole below the screen to win the corresponding tickets, it is one of the most exciting and classic game. Machine is designed the double console for two players enjoy the game at the same time. It is equipped with the high-definition screen with pegs for players interact with the game. Feature with flashing LED light effect and wonderful sound effect, make the machine appear dazzling and luxurious, attract the gaze of people.

The game is designed with different themes for players option, during the game, players seize the time to drop the ball by the button, the ball falling and through the pegs, falls into the reward hole and gets a reward. Especially suitable for parent-child, couples and friends to play together, rich rewards, waiting for players to challenge.

How to play :
- Player insert coins to the coin entrance.
- Choose the favorite game scene and start the game.
- Press the button to drop the ball, the ball fell through the pegs area and into the reward hole, receive corresponding rewarded.
- Game over, machine exit the tickets for players.
Snow Ball Drop Ticket Redemption Game Machine 2 Players Product Details
drop ball win tickets redemption game
voltage: 110V/220V
player: 1~2 players
a rapid, fun game with simple controls and classic gameplay
design different themes for option
equip with HD screen to show the game
unique pegs playfield design
colorful cabinet with LEDs
feature with the cute and attractive characters
high quality coin acceptors and ticket dispensers installed
Snow Ball Drop Ticket Redemption Game Machine 2 Players Other Details
| | |
| --- | --- |
| Product ID: | 010734 |
| Item Type: | Redemption Machines |
| Country: | Asia |
Snow Ball Drop Ticket Redemption Game Machine 2 Players Images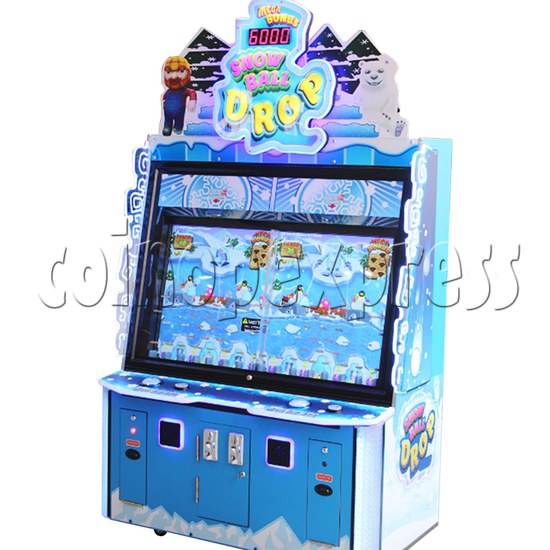 Snow Ball Drop Ticket Redemption Game Machine 2 Players - right view
Please Note: there is minimum order of $200USD (more info)