Feeding Frenzy 3 Ticket Redemption Machine
About Feeding Frenzy 3 Ticket Redemption Machine
Feeding Frenzy 3 Ticket Redemption Machine is an big fish eat fingerling game, which players control the fish to eat smaller fish to win scores. Vertical cabinet design, save the space and convenient to move. Equip with the high-definition 32" screen for players enjoy the game, double-player control panle design increase the entertainment and interactive. Players play the game only by the buttons on the control panel, gameplay is simple and fun, the most fish player eat, the higher scores win (and the more tickets player will earn).

The appearance of the machine takes the blue seabed as the background pattern, the top light box, the screen on both sides of the machine is a variety of fish, fish breath formed bubbles, as well as sea stars, seaweed and other patterns dotted among them, a very vivid picture of the underwater world. Console is LCD screen, with spherical button for game control. This machine play novel, exciting and highly recreational.

There are total 60 scenes in this game and features in easy to difficult levels.

Operating instructions:
(1) player insert coins into the coin entrance.
(2) select the difficulty of the game and press the start button to start the game.
(3) control the direction of the fish by the rotatable button, eat the fish and win scores. The more smaller fish eat, the higher scores win.
(4) game over, machine according to the scores exit the corresponding for players.
Feeding Frenzy 3 Ticket Redemption Machine Product Details
big fish eat fingerling ticket redemption game
vertical cabinet design
double-player control panle design
equip with 32" inch LCD screen
take blue underwater world as the appearance design theme
high quality electronic coin selector and ticket dispenser installed
power: AC110V / 220V
dimension: W940 x D810 x H2080 mm
weight: 100kgs
Feeding Frenzy 3 Ticket Redemption Machine Other Details
| | |
| --- | --- |
| Product ID: | 008255 |
| Item Type: | Redemption Machines |
| Country: | Asia |
| Notes: | attractive price offer for container base order - please contact our salesman for your require quantity. |
Feeding Frenzy 3 Ticket Redemption Machine Images
Feeding Frenzy 3 Ticket Redemption Machine - left view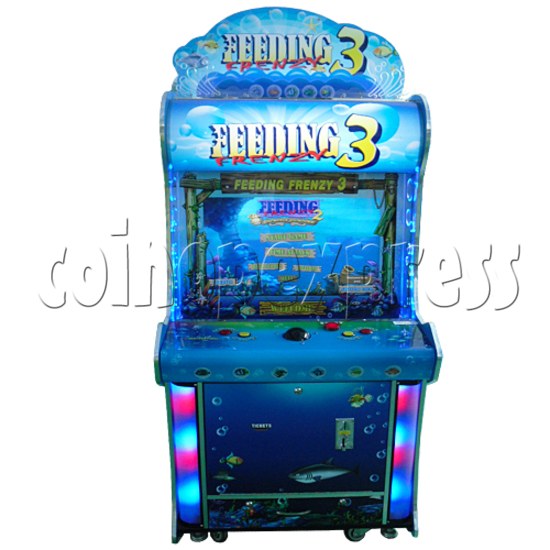 Feeding Frenzy 3 Ticket Redemption Machine - front view
Feeding Frenzy 3 Ticket Redemption Machine - right view
Feeding Frenzy 3 Ticket Redemption Machine - back view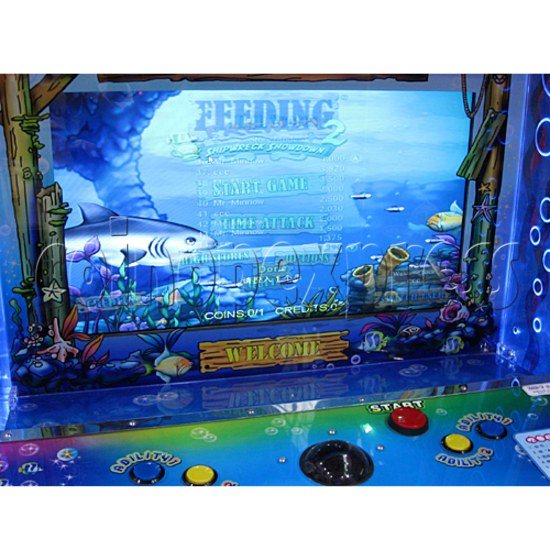 Feeding Frenzy 3 Ticket Redemption Machine - screen
Please Note: there is minimum order of $200USD (more info)