Dance Cube 2 Dancing Machine
About Dance Cube 2 Dancing Machine
Dance Cube 2 Dancing Machine is a music game for young people who love music and like to challenge the limits. It can support one or two players to play games at the same time. The modes of the game include single player, double play and double cooperation.

With the accompaniment of music, the game will continue to generate hits according to the rhythm, and the player must press the button on the hit point at the exact rhythm and position. Players are judged on their accuracy, and the player with the highest score wins. The winning player gets the chance to play an extra game for free.


The game also supports the networking function, players can scan the qr code before the game to log in the game, can participate in the national ranking, and the majority of game fans together for competition.


This machine appearance modelling is unique, the light is gorgeous, cooperates with the movement music, on the whole builds a young, the fashion, the avant-garde game atmosphere. In terms of gameplay, the unique key layout allows players who love music games to enjoy the feeling of dancing. The mechanical keypad design makes the rhythm full of feel.


Both sides of the machine are equipped with hd cameras, which can record the game videos of players. Besides, there are also LCD TV screens on both sides, which can play back the game videos of players and the information of players.

Operation instructions:

1. Press the start button to enter the game after coin is put in;

2. After entering the game, you can choose the game mode, including single, double, cooperative, versus, etc.;

3. The player can also select the difficulty level and set the game environment, such as cursor speed and image.

4. Press the start button to start the game.

5. The game will constantly generate rhythm points according to the music rhythm. Rhythm point is divided into single point, double point, single point long press, double point long press a total of four. The player needs to "hit" the corresponding button when the rhythm point reaches the button position around the screen.

6. The more accurate the strike, the higher the score. If the timing of the strike is inaccurate or wrong, it will be judged as a mistake.

7. After the game, the machine will give the score according to the accuracy and error rate of the player;

8. If you scan the code and log in before entering the game, your score will be recorded to participate in the national ranking;

9. Players can view various ranking information on their mobile phones, such as song ranking, national ranking, score ranking and so on.




Dance Cube 2 Dancing Machine Product Details
power:700W
size:W380*D150*H265cm
weight: 550kg
Dance Cube 2 Dancing Machine Other Details
| | |
| --- | --- |
| Product ID: | 011025 |
| Item Type: | Music-Dance Machines |
| Country: | China |
Dance Cube 2 Dancing Machine Images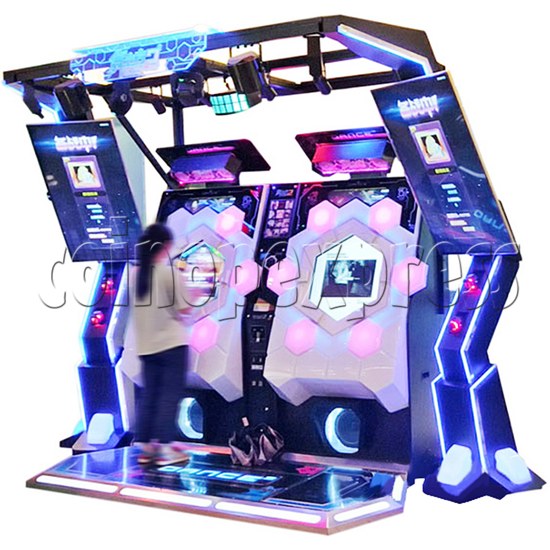 Dance Cube 2 Dancing Machine - right view
Dance Cube 2 Dancing Machine - front view
Please Note: there is minimum order of $200USD (more info)