Beatmania II DX 18 Resort Anthem
About Beatmania II DX 18 Resort Anthem
Beatmania II DX 18 Resort Anthem is the 18th installment in Beatmania IIDX series of music video games and made by Konami.

It is more than 60 new songs to the game, and features in beach theme.

This game includes new exciting mode as Premium free mode and DJ order mode.

Premium Free Mode, the player plays for 8 minutes as opposed to 2 stages. A song in-game can be cancelled by pressing the EFFECT and VEFX buttons simultaneously;
DJ Order Mode, where a player can select missions and earn DELLAR POINTS.
Beatmania II DX 18 Resort Anthem Product Details
player: 1 to 2 players
PASELI e- money system
screen size: 37 inch LCD screen
Chinese version: displays on the machine screen mix with Chinese, English and Japanese version
Beatmania II DX 18 Resort Anthem Other Details
| | |
| --- | --- |
| Product ID: | 008429 |
| Item Type: | Music-Dance Machines |
| Manufacturer: | Konami |
| Country: | China |
| Year Released: | 2010 |
Beatmania II DX 18 Resort Anthem Images
Beatmania II DX 18 Resort Anthem 23743
Beatmania II DX 18 Resort Anthem 23744
Beatmania II DX 18 Resort Anthem 23745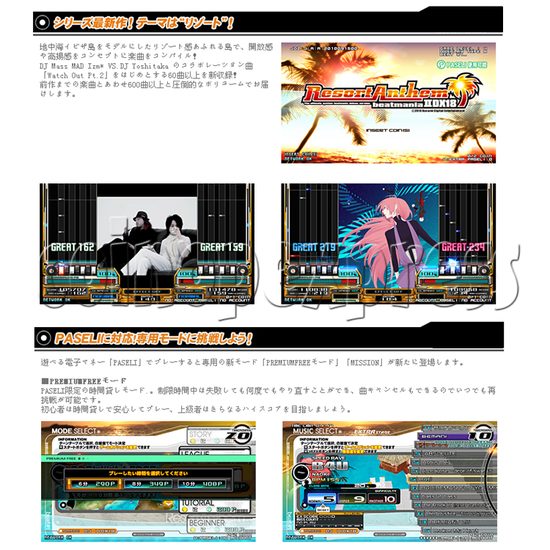 Beatmania II DX 18 Resort Anthem 23746
Please Note: there is minimum order of $200USD (more info)