Vibraphone First Movement Star Edition
About Vibraphone First Movement Star Edition
Vibraphone Movement Star Edition is an active music simulation game, the player's controls sticks to beat seven keys match up with symbols fall from the top of the screen

It features with over 60 popular songs, over 200 properties and 6 characters of top musicians: Sussis, Elliott, Kev, Aditi, Marius, Mr.Parrot.

There are three game play modes, including single player, two players, and link up play mode. Each mode is from Basic, Advance and Extreme skills, player must reach a preset amount of points to achieve success and advance to the next level.
Vibraphone First Movement Star Edition Product Details
voltage: AC 220V
player: 1 ~ 2 players
over 60 songs and over 200 properties
4 sticks
one high quality electronic coin selector installed
able to link up for 8 machines
Vibraphone First Movement Star Edition Other Details
| | |
| --- | --- |
| Product ID: | 008819 |
| Item Type: | Music-Dance Machines |
| Manufacturer: | IGS |
| Country: | China |
| Year Released: | 2010 |
Vibraphone First Movement Star Edition Images
Vibraphone First Movement Star Edition 25695
Vibraphone First Movement Star Edition 25696
Vibraphone First Movement Star Edition 25697
Vibraphone First Movement Star Edition 25698
Vibraphone First Movement Star Edition 25699
Vibraphone First Movement Star Edition 25700
Vibraphone First Movement Star Edition 25701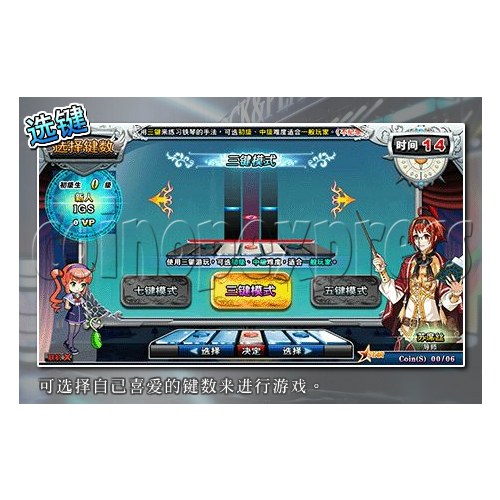 Vibraphone First Movement Star Edition 25702
Vibraphone First Movement Star Edition 25703
Vibraphone First Movement Star Edition 25704
Vibraphone First Movement Star Edition 25705
Vibraphone First Movement Star Edition 25706
Vibraphone First Movement Star Edition 25707
Vibraphone First Movement Star Edition 25708
Vibraphone First Movement Star Edition 25709
Vibraphone First Movement Star Edition 25710
Please Note: there is minimum order of $200USD (more info)