About Toy's March
Another series of music machines made by the powerhouse company Konami. This series is a simplified version of Konami's other Drum simulator Drummania.

The 2 main differences are 2 players can play at once as opposed to only one with Drummania machines. The other differences is that each player's controls consists of only 1 drum and 1 cymbal.

The game flow is similar to other Konami's music games. Player's get to choose a song rated in difficulty from 1 to 5 stars. The playfield consists colourful backgrounds with cute animated characters dancing around.

On each side of the screen is the player's section. Images fall from the top of the screen and when the image reaches the marker at the bottom. The player must strike the correct pad either the drum or the cymbal.

There are 3 main images, a blue note meaning strike the drum. A Yellow cymbal meaning strike the cymbal. Or a blue block meaning strike the drum rapidly. This block can be any length, the player must keep striking the drum for as long as the block lasts.

When the music ends, the players ratings & successful strikes are revealed and in versus mode a winner is declared.
Toy's March Product Details
Toy's March Full Machine
2 Player Drum Simulator
Over 25 Songs
10 Colourful Characters
Toy's March Other Details
| | |
| --- | --- |
| Product ID: | 006450 |
| Item Type: | Music-Dance Machines |
| Manufacturer: | Konami |
| Country: | Japan |
| Year Released: | 2005 |
Toy's March Images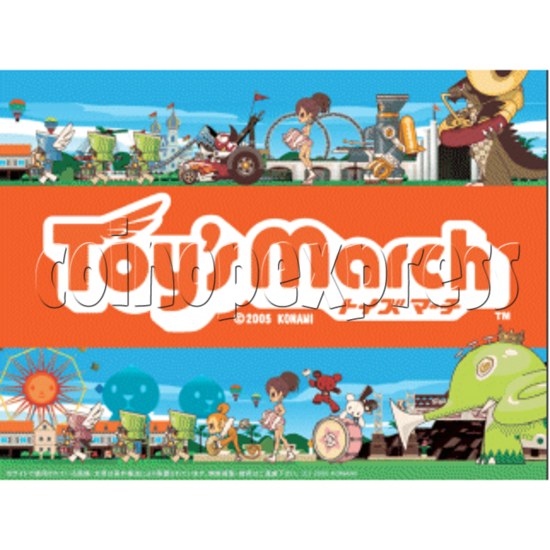 Toy's March 16752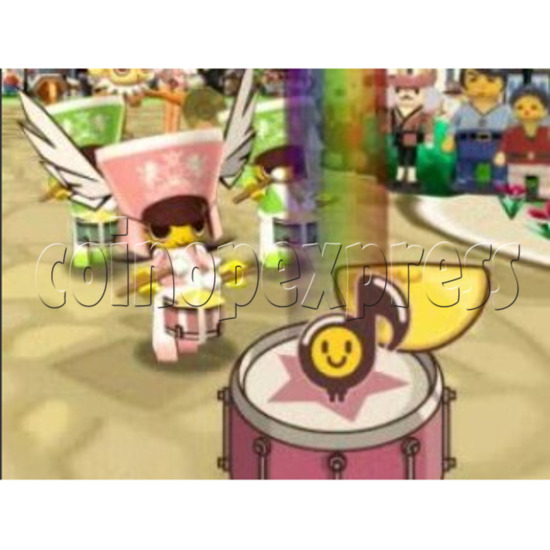 Toy's March 16753
Please Note: there is minimum order of $200USD (more info)