Taiko No Tatsujin Matsuri de FEVER 4 players (used)
About Taiko No Tatsujin Matsuri de FEVER 4 players (used)
Taiko No Tatsujin Matsuri de FEVER 4 players (used)is a 4 players video arcade ticket redemption with music rhythm from Konami, featuring on a table type with four drums around, the middle with 42 inch high definition LCD screen display, players pick up the drum stick to beats a drum face in time with the rhythm rewards, to match the corresponding role of the screen corner of the props, which will jump up or random display, players will win related tickets output.

Matsuri de FEVER, in providing a fresh, exciting new play mechanic hitherto unseen in medal games, this title can be enjoyed by even beginner players both young and old. The game also features many famous licensed music tracks, classical music, and even folk songs, for a varied music experience.

The game play is simple enough for even children to play, and a kinetic experience that is hard for anyone to resist.
Taiko No Tatsujin Matsuri de FEVER 4 players (used) Product Details
reconditon machine
Original / China Made Chinese and English
Taiko No Tatsujin series video drum games
player: 1 ~ 4 players
suitable for players in all ages
original game software
Chinese version
with 42 inch high definition LCD screen
high quality coin selector and ticket dispenser installed
Taiko No Tatsujin Matsuri de FEVER 4 players (used) Other Details
| | |
| --- | --- |
| Product ID: | 011542 |
| Item Type: | Music-Dance Machines |
| Manufacturer: | Konami |
| Country: | China |
Taiko No Tatsujin Matsuri de FEVER 4 players (used) Images
Taiko No Tatsujin Matsuri de FEVER 4 players (used) right view
Taiko No Tatsujin Matsuri de FEVER 4 players (used) front view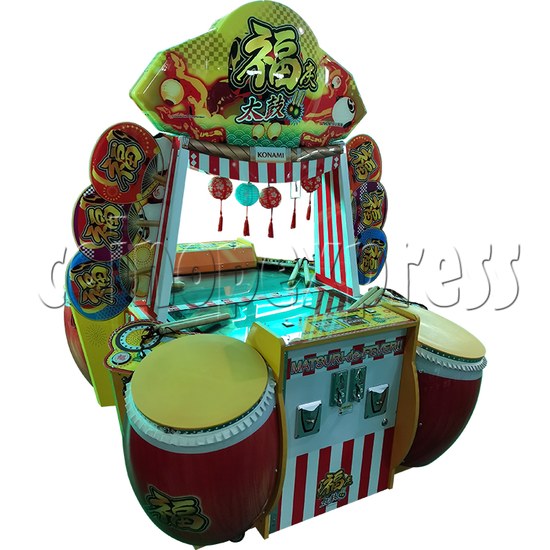 Taiko No Tatsujin Matsuri de FEVER 4 players (used) left view
Please Note: there is minimum order of $200USD (more info)