Pump It Up XX 20th Anniversary Edition Dance Machine
About Pump It Up XX 20th Anniversary Edition Dance Machine
Pump It Up XX 20th Anniversary Edition Dance Machine is one of the music dance machines in the Pump It Up series, released by Andamiro in January 2019. The software is available in Andamiro's flagship "LX" cabinet, keeping the captivating LED lighting effects, incredible 4-speaker and 2-subwoofer sound system, simple card login system and the camera. The graphics pop better than ever on the 55″ high-definition screen, making this one anniversary to remember!

Instead of the arrows being placed in the cardinal directions, they are placed at the diagonals. The way to play is similar – arrows will float up from the bottom of the screen, and player must stomp on the correct arrow when it overlaps the target at the top of the screen. Players enjoy a large number of electronic pop music songs, including K-Pop and several other genres.

This edition introduces several features to the player interface. These include renewals for song and step difficulties, and more than 100 reward titles. Both renewals and reward titles are key parts of the XX interface. Renewals allow players to continue (or "renew") song-and-dance sessions from where they left off. Reward Titles are designations assigned to a player's user ID, they could include "titles" like "advanced", "specialist" and "newbie" among many others. Pump It Up XX 20th Anniversary Edition Dance Machine also has an online matchmaking system, which can "match" players of similar abilities and styles.
Pump It Up XX 20th Anniversary Edition Dance Machine Product Details
music dance arcade video machine
tutorial beginners to learn how to play
tried-and-true gameplay formula makes it easy to learn but difficult to master
designed especially for the LX cabinet design
the graphics & music videos clearly displayed on the 55″ HD screen
biggest song list on a new PIU release ever, with over 500 songs and new songs added frequently
4-speaker & 2 subwoofer design for best-in-class sound
players can purchase AM.PASS Cards to login to their account
new reward titles to keep players coming back for more
new online matchmaking system will connect players with similar abilities to each other
many game modes includes the Rival System, Auto Velocity and Random Train introduced in Prime 2
mixed the Chinese language and English language
online functionality through a wired CAT5 connection
integrated Camera system
Pump It Up XX 20th Anniversary Edition Dance Machine Other Details
| | |
| --- | --- |
| Product ID: | 011125 |
| Item Type: | Music-Dance Machines |
| Manufacturer: | Andamiro |
| Country: | China (ex factory) |
| Year Released: | 2019 |
Pump It Up XX 20th Anniversary Edition Dance Machine Images
Pump It Up XX 20th Anniversary Edition Dance Machine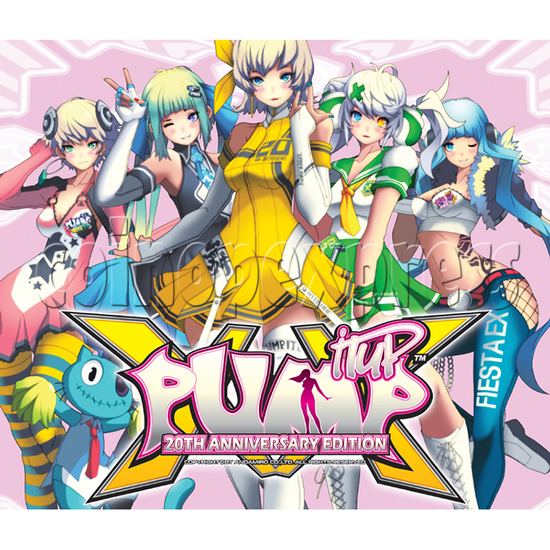 Pump It Up XX 20th Anniversary Edition Dance Machine
Please Note: there is minimum order of $200USD (more info)