Break The Safe Ticket Redemption Arcade Machine
About Break The Safe Ticket Redemption Arcade Machine
Break The Safe Ticket Redemption Arcade Machine is a new push ball mechanical ticket redemption machine. Two in one cabinet design, game operation is simple only by two buttons, the ball falls from the top and through the layers of the prize area to receive the prize. Multiple ticket rewards and multi-dimensional reward design, satisfy the pleasure of winning high tickets and experience the sense of surprise brought by the game.

Small balls, big balls, and different reward content design to increase the game fun. Feature with a raffle tray, the design of the raffle increases the player's surprise experience, "unlocking drop ball" and "ball rain" design, increase visual impact, and the time-limited double reward section, bring exciting and fun for player.

How to play:
1. Player insert coins and press the button to start the game.
2. Press the button one time, drop one ball.
Bonus for dropping the ball: If the ball falls directly into the lateral reward area (7 holes), player will get the reward corresponding. If the ball just passes through the moving SPIN hole, player will trigger the raffle tray to draw.
3. The top 5 LOCK lights are all lit, the "ball rain" will be triggered. 5 GOLD lights are all lit, enter the golden fruit party time (double the ticket). Light 5 LUCKY lights to enter the LUCKY party time (double the ticket).
4. For each coin inserted, the JP reward pool accumulates.
Break The Safe Ticket Redemption Arcade Machine Product Details
push ball mechanical game
two in one cabinet
multiple ticket rewards and multi-dimensional reward
raffle tray, "unlocking drop ball", "ball rain" and time-limited double reward design
language: Chinese version
control type: buttons
player: 1~2 players
power: 1200-1400W
dimension: W1410 ×D990×H 2500 mm
weight: 323kgs
Break The Safe Ticket Redemption Arcade Machine Other Details
| | |
| --- | --- |
| Product ID: | 011331 |
| Item Type: | Medal Games |
| Country: | China (ex factory) |
Break The Safe Ticket Redemption Arcade Machine Images
Break The Safe Ticket Redemption Arcade Machine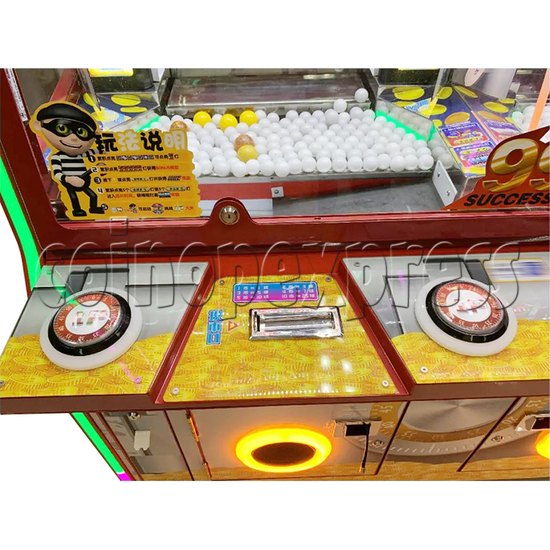 Break The Safe Ticket Redemption Arcade Machine control panel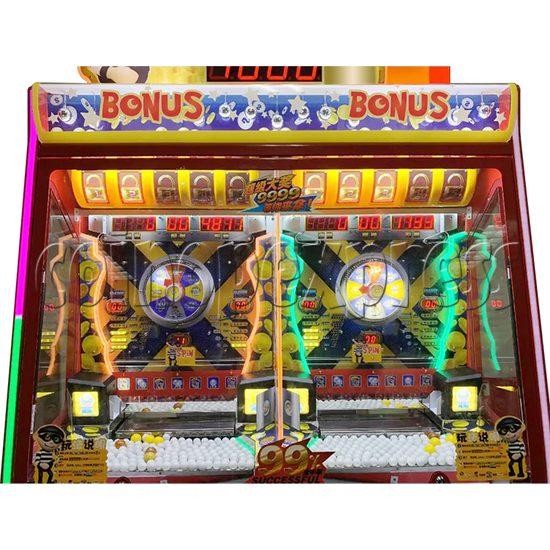 Break The Safe Ticket Redemption Arcade Machine playfield 1
Break The Safe Ticket Redemption Arcade Machine playfield 2
Break The Safe Ticket Redemption Arcade Machine playfield 3
Please Note: there is minimum order of $200USD (more info)