Crazy Rowboat Video Racing Game Kiddie Ride
About Crazy Rowboat Video Racing Game Kiddie Ride
Crazy Rowboat Video Racing Game Kiddie Ride is a skill challenging video simulation rowboat game, features with a motion seat with especial effect for driving a boat on the water, with an unique steering wheel controlling the front of the boat to move forward, the game is very simple to play, during the game, player control the boat by the steeling wheel and use your skill to lots of obstacles on the driving and pick up gold coins along the way to win related tickets.

How to play:
- insert coins, select map and presses the start button to start game;
- Player turns the steering wheel to control the boat to avoid obstacles;
- Player can pick up a variety of props or gold coins, increase the game's fun and challenge with BOSS.
- Game is over, the more points you get, the more tickets you will win.
Crazy Rowboat Video Racing Game Kiddie Ride Product Details
rowboat racing game
player: 1 player
safety system for each kid
easy to manage and operate
uses motion tech, modeled with realism in mind
high-speed action and skill challenged game
unique steering wheel controlling
high quality coin selector and ticket dispenser installed
Power: 400W
Weight:313KG
Voltage: 110V/200V
Machine Size: W1093*D2312*H2526 mm
Crazy Rowboat Video Racing Game Kiddie Ride Other Details
| | |
| --- | --- |
| Product ID: | 010235 |
| Item Type: | Kiddie Rides |
| Country: | China (ex factory) |
| Year Released: | 2018 |
Crazy Rowboat Video Racing Game Kiddie Ride Images
Crazy Rowboat Video Racing Game Kiddie Ride 36512
Crazy Rowboat Video Racing Game Kiddie Ride 36513
Crazy Rowboat Video Racing Game Kiddie Ride 36514
Crazy Rowboat Video Racing Game Kiddie Ride 36515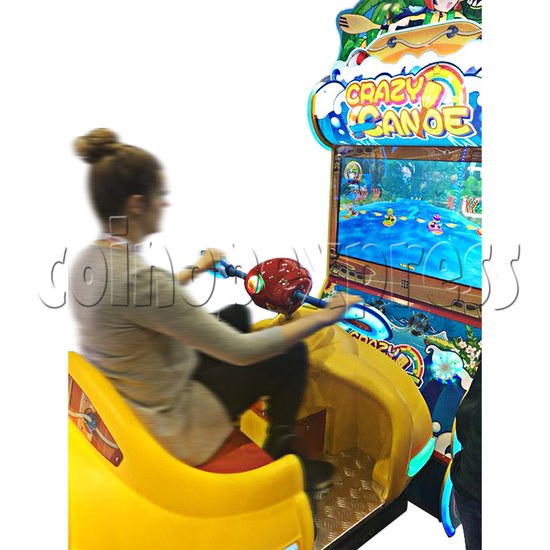 Crazy Rowboat Video Racing Game Kiddie Ride 36516
Please Note: there is minimum order of $200USD (more info)