SpongeBob Order Up - Whack at a Classic game machine
About SpongeBob Order Up - Whack at a Classic game machine
SpongeBob Order Up - Whack at a Classic game machine is coin-operated ticket redemption machine, features with spatula whacker and six hamburgers targets, designs combo lamp, players 'serve' those delicious Krabby Patties by smacking them with the spatula hammer when they pop up. Use the Spatula to hit as many Krabby Patties each round, it can be link up to 4 units to create a dynamic presentation.

SpongeBob Order Up is a spatula skills test ticket redemption machine, which is in this whack-a-mole-style redemption game; Each whack flips a Krabby Patty to help SpongeBob feed a mob of hungry customers.

How to play:
- insert coins and start games;
- players use the spatula hammer to hit hamburgers targets as more as when they pop up;
- player can use rapidly whack after the full combo lamp show up.
SpongeBob Order Up - Whack at a Classic game machine Product Details
Whack-a-mole-style ticket redemption game
Player: 1 player
Can be link up 4 units for multi-Player Stations available
It's lunchtime at the Krusty Krab and it's getting busy
Help SpongeBob feed the hungry customers and save the day!
Use your Spatula skills to serve as many Krabby Patties as possible before time runs out!
High quality coin selector and ticket dispenser installed
SpongeBob Order Up - Whack at a Classic game machine Other Details
| | |
| --- | --- |
| Product ID: | 010408 |
| Item Type: | Hammer & Punch machines |
| Manufacturer: | Andamiro |
| Country: | Korea |
| Year Released: | 2018 |
SpongeBob Order Up - Whack at a Classic game machine Images
SpongeBob Order Up - Whack at a Classic game machine 37698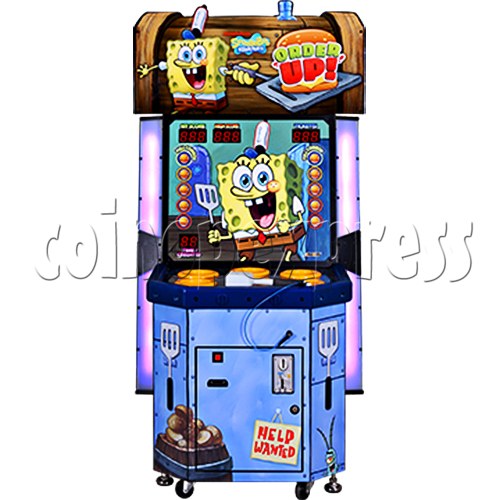 SpongeBob Order Up - Whack at a Classic game machine 37699
SpongeBob Order Up - Whack at a Classic game machine 37700
SpongeBob Order Up - Whack at a Classic game machine 37701
SpongeBob Order Up - Whack at a Classic game machine 37702
SpongeBob Order Up - Whack at a Classic game machine 37703
SpongeBob Order Up - Whack at a Classic game machine 37704
SpongeBob Order Up - Whack at a Classic game machine 37705
Please Note: there is minimum order of $200USD (more info)