Seafood Paradise 2 arcade machine ( 6 players)
About Seafood Paradise 2 arcade machine ( 6 players)
Seafood Paradise 2 arcade machine ( 6 players) is the second game in the seafood paradise series of fish hunter video redemption games, is a 6 players control panel, adds more functions and adds to 13 different kinds of powerful special weapons, with 19 different types of fish swimming under colorful ocean theme on a large 58 inch LCD screen, to aim at the fish targets and try to catch as many fish as to win most points.

Special weapons: Killing any fish will drop special weapon randomly. In addition to its amazing visual effects, it also gives you High-Score rewards. (Special weapons will shoot automatically if player didnot launch in 5 minutes.)

* Free Canon Shoot missiles 30 seconds for free;

* Power GridLast in the fields in a sustained 5 seconds;

* Invincible Bomb damage all fishes in the field at a time;

Special item floating in the playfield. Attack them to release special power!

* Timer Bomb: Attack all fishes in the field.

* Chain Lightning: Attacking fishes in the field continuously.

* Thermal Flame: Shoot a controllable flame snake from the canon. Burn all fishes nearby.

* Octopus Bomb: Killing it drop a bomb cause octopus get mad and fooling around. Press attack button cause bomb explode.

* Frozen Stopwatch: Freeze all fishes nearby. Kill frozen fish will double score.

Special Fish

* Lucky Fish: When killing the lucky fish, player will get a x2~x10 Bonus reward for any kind of fish. Maximum reward is 4000 time Bets!!

* Fish King: Surrounded by dolphin ring. Killing the Fish King also kill all same kind of fishes in the field and get scores.

* Engulf Angler fish: Engulf little fishes to increase score. Collect score show on the Engulf Angler fish while defeated.

In this game there is one of the biggest cast of characters for players to catch, these fish include: Flying Fish, Jellyfish, Starfish, Butterfly Fish, Fugu, Sea Horse, Lionfish, Lantern Fish, Lobster, Sea Turtle, Stingray, Squid, Nautilus, Sharks, Dugongs, the Blue Whale, and more!
Seafood Paradise 2 arcade machine ( 6 players) Product Details
fish hunter simulator game
voltage: 110V / 220V
player: 1~6 players
with 3D ocean graphic display
high definition 58 inch LCD screen
key in/out function available
mini-games features appear at random throughout the game
high quality coin selector installed
bill acceptor/printer for option
Seafood Paradise 2 arcade machine ( 6 players) Other Details
| | |
| --- | --- |
| Product ID: | 009890 |
| Item Type: | Fish Machines |
| Country: | China (ex factory) |
| Notes: | 58" English 6 players cabinet can be added with bill acceptors or printer for option, please check more details from our sales. |
Seafood Paradise 2 arcade machine ( 6 players) Images
Seafood Paradise 2 arcade machine ( 6 players) 33529
Seafood Paradise 2 arcade machine ( 6 players) 33530
Seafood Paradise 2 arcade machine ( 6 players) 33531
Seafood Paradise 2 arcade machine ( 6 players) 33532
Seafood Paradise 2 arcade machine ( 6 players) 33533
Seafood Paradise 2 arcade machine ( 6 players) 33534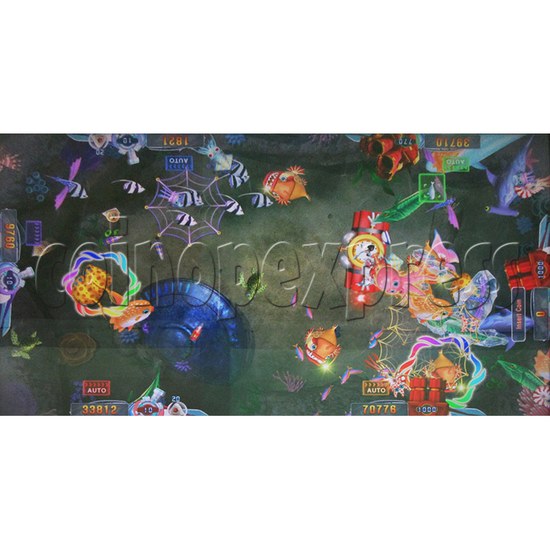 Seafood Paradise 2 arcade machine ( 6 players) 33535
Seafood Paradise 2 arcade machine ( 6 players) 33536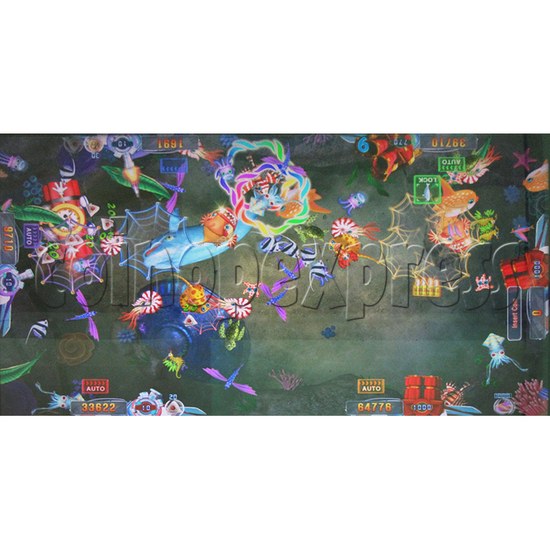 Seafood Paradise 2 arcade machine ( 6 players) 33537
Please Note: there is minimum order of $200USD (more info)