Deep Sea Story Fishing Arcade Machine 6 Players (Fishing Rod Controller Version)
About Deep Sea Story Fishing Arcade Machine 6 Players (Fishing Rod Controller Version)
Deep Sea Story Fishing Arcade Machine is a 6 players fishing simulation game redemption machine by using 6 unique fishing rods to control the game, with 3 different levels for playing in two 42 inch screens. The game is very exciting that the more various fishes you got, the more output tickets you won. It is a brand new fishing theme video arcade game which leading the new trend of family game.

When the game starts, the game play comes with lots of fishes. Players can cast the unique fishing rod controller to entice them, when a fish takes the bait, the graphic will enlarge and words will show on the screen to remind player for getting the fish; then wind the reel quickly to pull it in. But for the tougher fish, you need to use the thunder bolt to weaken them, then keep winding your reel to catch them in. The thunder bolts are the trump card against the toughest fishes. The game is playing as it is a actual fishing and you will enjoy more fun from it.

There are also three levels of rods for players to choose, which can be purchased with points:
* Normal Class Rod (costs10 points)
* Medium Class Rod (costs 20 points)
* High Class Rod (costs 30 points)

How to play:

- insert coins and press the start button to start game;
- choose the fishing rod according to your inset coins;
- press the button on the rods to cast your float;
- when a fish takes the bait, wind the reel to pull it in;
- use thunder bolts to weaken the fish;
- land the fish to get points for related tickets.
Deep Sea Story Fishing Arcade Machine 6 Players (Fishing Rod Controller Version) Product Details
fishing simulation game
voltage :220V
player: 1~6 players
6 players standard cabinet
two high definition 42 inch LCD screens
catch more fishes to get points
6 unique fishing rod controllers installed
various fishes to catch across three stages
high quality coin selector and ticket dispenser installed
Deep Sea Story Fishing Arcade Machine 6 Players (Fishing Rod Controller Version) Other Details
| | |
| --- | --- |
| Product ID: | 009969 |
| Item Type: | Fish Machines |
| Country: | China (ex factory) |
| Year Released: | 2015 |
Deep Sea Story Fishing Arcade Machine 6 Players (Fishing Rod Controller Version) Images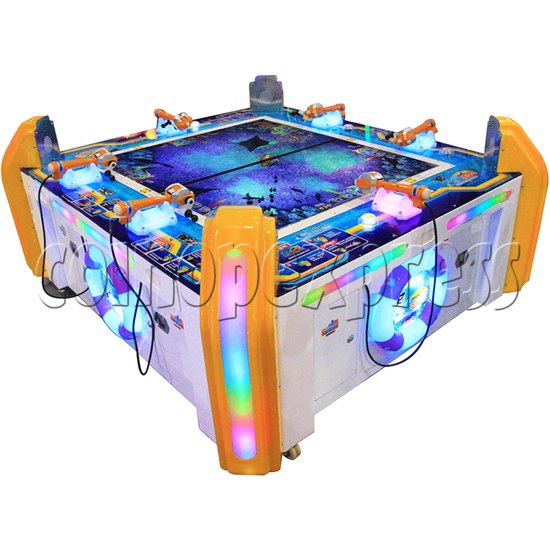 Deep Sea Story Fishing Arcade Machine 6 Players (Fishing Rod Controller Version) 34344
Please Note: there is minimum order of $200USD (more info)