Deep Sea Capture Fishing Ticket Redemption Machine ( 6 players)
About Deep Sea Capture Fishing Ticket Redemption Machine ( 6 players)
Deep Sea Capture Fishing Ticket Redemption Machine (6 players) is a new fish hunting game for 6 players cabinet, features with unique steering wheel catcher controller and "Catch" button to shoot the different stylish big fish to win related scoring.

How to play:
- insert coin and start games;
- Player controls the steering wheel and presses the "Catch" button to shoot the big fish.
- Players controls the direction of the steering wheel catcher to catch the fish. The more fish you score, the more points you win;
- The higher the points, the better tickets payout.
Deep Sea Capture Fishing Ticket Redemption Machine ( 6 players) Product Details
voltage: 110V / 220V
ocean series fish hunter game
with high definition LCD screen
6 players acceptable at the same time
full 3D graphics bring you the real appearance of the undersea world
different type of fish to catch and heaps of different scenes to enjoy
Deep Sea Capture Fishing Ticket Redemption Machine ( 6 players) Other Details
| | |
| --- | --- |
| Product ID: | 010278 |
| Item Type: | Fish Machines |
| Country: | China (ex factory) |
Deep Sea Capture Fishing Ticket Redemption Machine ( 6 players) Images
Deep Sea Capture Fishing Ticket Redemption Machine ( 6 players) 36999
Deep Sea Capture Fishing Ticket Redemption Machine ( 6 players) 37008
Deep Sea Capture Fishing Ticket Redemption Machine ( 6 players) 37009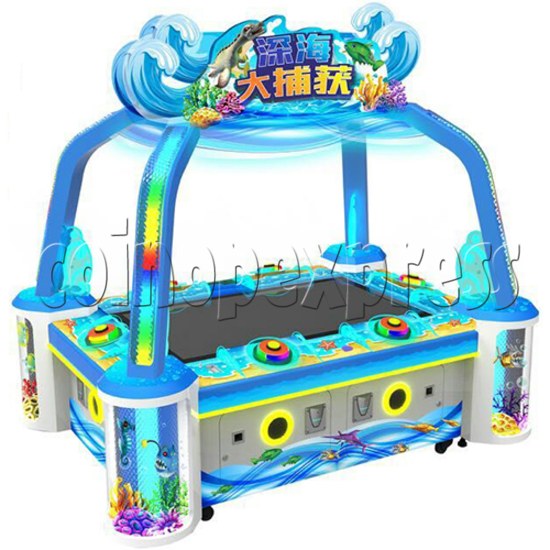 Deep Sea Capture Fishing Ticket Redemption Machine ( 6 players) 37010
Deep Sea Capture Fishing Ticket Redemption Machine ( 6 players) 37011
Deep Sea Capture Fishing Ticket Redemption Machine ( 6 players) 37012
Deep Sea Capture Fishing Ticket Redemption Machine ( 6 players) 37013
Please Note: there is minimum order of $200USD (more info)