Wangan Midnight Maximum Tune Single
About Wangan Midnight Maximum Tune Single
Players choose from three game modes: Story Mode, VS. Player Mode and Time Attack Mode. In the Story Mode players register their car on the card and defeat rival characters one after another, the battle of all battles is against the legendary Devil Z. The Story Mode is where the player tunes their car. Prior to starting the race players can fine tune their suspension, adjust their horsepower and select either manual or automatic transmissions. The VS. Player Mode demonstrates the ultimate racing experience in driving simulators. Players can challenge another player even during game play. There is no need to wait. If the player wishes they can also select "No Handicap" and enjoy head-to-head races in which the key to victory lies within the player's driving skills and how well the player has tuned their car. The races with custom tuned cars are exhilarating compared to the usual driving experiences of older model driving simulators! In the VS Mode, players can choose whether they wish to play on their own or would like to accept competition with buy ins by simply selecting accept/no accept challenge with a touch of a button. The players' choice can be changed any time during the game. The Time Attack Mode is an expert mode for players that wish to compete with rivals all around the world.

WANGAN MIDNIGHT ~ Maximum Tune offers a completely new rewritable card system. The "Tuning Card" data is updated after each game play. The rank, tuning status and number of rivals defeated in the Story Mode are recorded after each exhilarating match.

All the white-knuckle racing takes play in a special circuit using a closed Metropolitan Expressway. Players race through the streets from sun up to sun down. The innovative H-shaped 6-gear shift, large steering wheel and bucket seat were all incorporated to boost the players driving experience. The newly developed motion program allows players to easily experience 4-wheel drift driving like never before! Up to two units can be linked to offer players the best of the best.
Wangan Midnight Maximum Tune Single Product Details
29" Monitor
Voltage:110V
English version
1 unit is in stock
Excellent condition
Goods available from Elk Grove Village, Chicago USA
Wangan Midnight Maximum Tune Single Other Details
| | |
| --- | --- |
| Product ID: | 005215 |
| Item Type: | Driving-Riding Games |
| Manufacturer: | Namco |
| Country: | USA |
| Year Released: | 2004 |
Wangan Midnight Maximum Tune Single Images
Wangan Midnight Maximum Tune Single 11729
Wangan Midnight Maximum Tune Single 11730
Wangan Midnight Maximum Tune Single 11731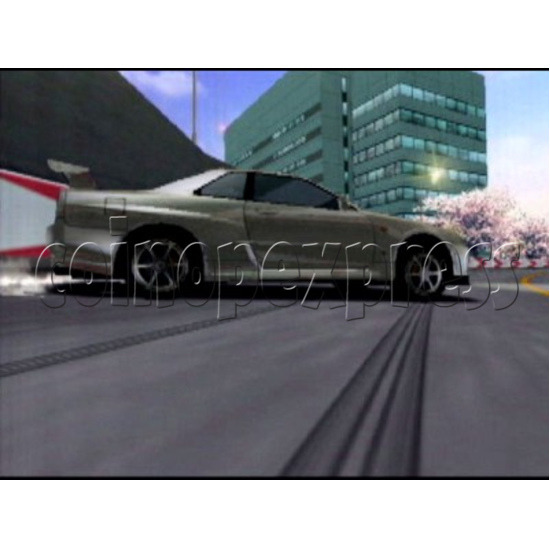 Wangan Midnight Maximum Tune Single 11732
Please Note: there is minimum order of $200USD (more info)