VR Chariot Driving Arcade Machine
About VR Chariot Driving Arcade Machine
VR Chariot Driving Arcade Machine is a new driving game which with VR function. Players can enter the game, as it were, to give the player a unique experience like real driving.

Brief introduction of the game:
1. Excellent quality, precise positioning, innovative gameplay, easy to use.
2. The pictures in the game are mainly cartoon, and all the visual effects are relatively soft and interesting, suitable for both the old and the young.
3. After investing enough game COINS, press the start button to enter the game and shoot zombies to challenge the level.
4. Finally, challenge the evil zombie doctor for fun and convert lottery prizes according to scores.
5. The ticket refund system is mature, with perfect functions, simple setup and clear revenue data.

Operating instructions:
1. The two buttons in the middle of the console correspond to the game start buttons of 1P and 2P respectively;
2. After putting COINS, press and hold the trigger button on the gun handle, move the shooting Angle of the gun to make the cursor point at the selected level for shooting, and enter the corresponding level to play the game. There are four levels.
3. Press the trigger button to achieve single point shooting, long press the trigger button to achieve continuous shooting.
4. Kill different zombie characters will get different points. At the end of the game, lottery machine will set the corresponding lottery according to the points.
5. Shooting the accelerator during the game can increase the shooting power, but there is a time limit.
6. The screen will appear red when attacked by zombie characters in the game.
7. When the blood bar is near the end of the state, the screen will appear "whether to continue the game with COINS" prompt text.
8. Kill all zombies, pass smoothly, the game is over.
VR Chariot Driving Arcade Machine Product Details
Brand New Product
Size: W1700 x D2400 x H2500(mm)
220V
English version
1-2 players
Massive 65"HD LCD display
VR Driving game
VR Chariot Driving Arcade Machine Other Details
| | |
| --- | --- |
| Product ID: | 010610 |
| Item Type: | Driving-Riding Games |
| Country: | Asia |
VR Chariot Driving Arcade Machine Images
VR Chariot Driving Arcade Machine - left view 1
VR Chariot Driving Arcade Machine - left view 2
VR Chariot Driving Arcade Machine - right view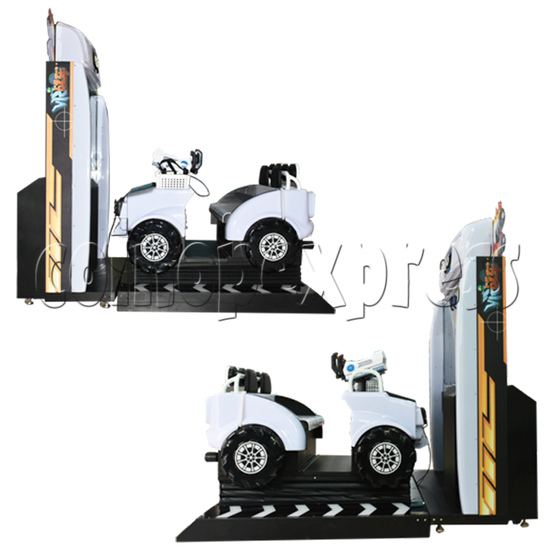 VR Chariot Driving Arcade Machine - side view
Please Note: there is minimum order of $200USD (more info)