Sugar Racing Video Driving Game 2 Players
About Sugar Racing Video Driving Game 2 Players
Sugar Racing Video Driving Game 2 Players is a double players interactive video racing game, which roadness and brightness cabinet design, equip with spacious and comfortable double seats. Feature with double vertical 26" screens display the game for players, install two steering wheels on the control panel for players play the game. The game design difference cartoon character and game mode for player option, and design a variety of props to enrich the game, it must be very interesting and exciting.

Player inserts coins, press start button to enter the game mode and game characters selection screen, player chooses the game mode and favorite character, enter the game. During the game, player control the car to avoid obstacles, collect candy and props in the video game by the steering wheel, player can use the props attack the opponent. The more candy player collect, the more scores player get. When the game over, player get the reward according to the scores.

Classification of props: Candy prop, random prop, accelerate prop, fly prop, jump prop, lightning prop, bombs prop, ink prop, time travel prop, obstacles prop.
Sugar Racing Video Driving Game 2 Players Product Details
driving racing video game
double vertical 26" screens design
double-player control panel with two steering wheels
featuring double seats
game mode: single-player mode, two-player VS mode
difference game characters design
various different props design
high quality coin selector and ticket dispenser installed
player: 1~2 players
voltage: 150V/175V
dimension: W1200 X D1650 X H1370 MM
weight: 165kgs
Sugar Racing Video Driving Game 2 Players Other Details
| | |
| --- | --- |
| Product ID: | 010656 |
| Item Type: | Driving-Riding Games |
| Country: | China |
Sugar Racing Video Driving Game 2 Players Images
Sugar Racing Video Driving Game 2 Players - angle view
Sugar Racing Video Driving Game 2 Players - back view
Sugar Racing Video Driving Game 2 Players - side view
Sugar Racing Video Driving Game 2 Players - steering wheel
Sugar Racing Video Driving Game 2 Players - seat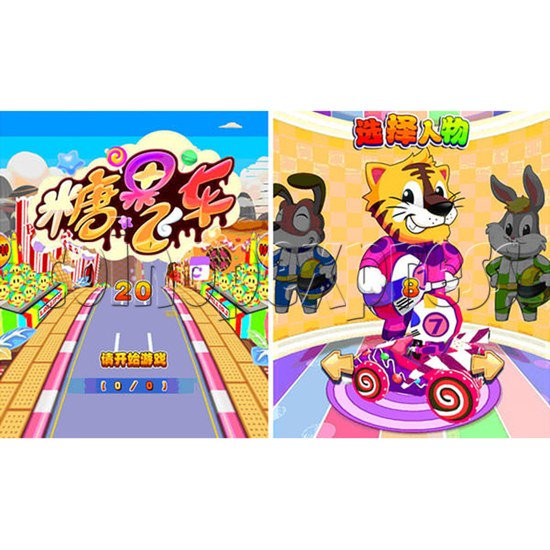 Sugar Racing Video Driving Game 2 Players - screen display
Please Note: there is minimum order of $200USD (more info)