Speed Rider 3 Motorcycle Racing Machine
About Speed Rider 3 Motorcycle Racing Machine
Speed Rider 3 Motorcycle Racing Machine is the third version motorcycle racing game from Speed rider series released by IGS games, is a two seats model, can be linked up to 4 players for competition game, powerful with real time 42 inch large high definition LCD screen, features with motion seat effect and with infrared ray sensor installed, can scan or code to advertise your store, cool and amazing head light design;

Speed Rider 3 game play is an exciting racing game, control by pressing the left brake to drift effect, control by pressing the right brake to slow down, press push button to start nitrogen effect to transformers and for extremely speed up, leaning body against the infrared, can reduce the wind resistance to increase the speed.

It is famous with hot rider characters, such as Shawn, Randal, Aura, Lilith, Cheng, Rock, Lily, Tyrant, Leona, Mia, Willy, Lee, Johnson Jr. and others unknown riders during the competition.

And the tracks comes from famous city, such as Thailand, Beijing, Indonesia, Shanghai.
Speed Rider 3 Motorcycle Racing Machine Product Details
motorcycle racing game
voltage: 220V
with 42 inch HD LCD screen
player: 1 ~ 2 players
can be linked up with two machines for four players
with sensor device for simulating the rider's bending movement
view change buttons and boost button
high quality coin selectors installed
Speed Rider 3 Motorcycle Racing Machine Other Details
| | |
| --- | --- |
| Product ID: | 010131 |
| Item Type: | Driving-Riding Games |
| Manufacturer: | IGS |
| Country: | China |
| Year Released: | 2017 |
Speed Rider 3 Motorcycle Racing Machine Images
Speed Rider 3 Twin Racing Machine 35717
Speed Rider 3 Twin Racing Machine 35718
Speed Rider 3 Twin Racing Machine 35719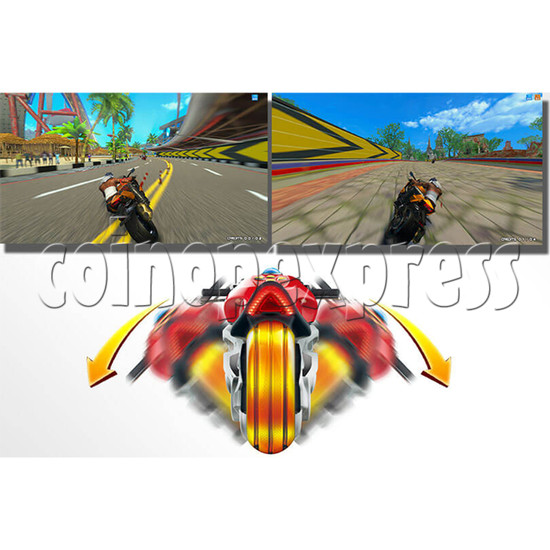 Speed Rider 3 Twin Racing Machine 35720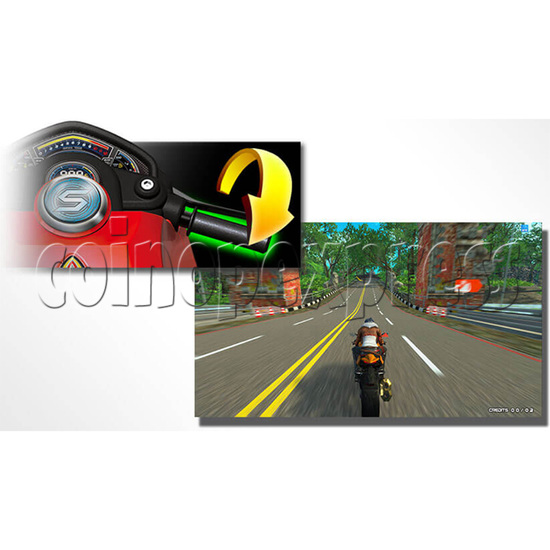 Speed Rider 3 Twin Racing Machine 35721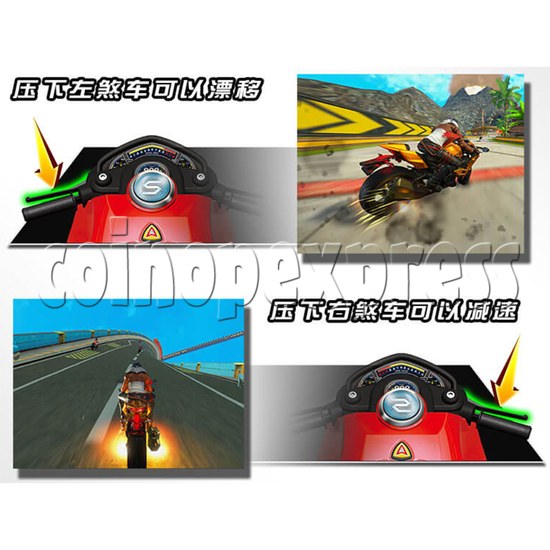 Speed Rider 3 Twin Racing Machine 35722
Speed Rider 3 Twin Racing Machine 35723
Speed Rider 3 Twin Racing Machine 35724
Please Note: there is minimum order of $200USD (more info)