About Mario Kart Arcade SD
Mario Kart Arcade SD, a joint production of Nintendo and Namco, but produced with the Namco brand name with the Triforce hardware comes Mario and friends in a crazy racing game.

The players have the choice of many character Nintendo characters such as as Mario, Wario, Donkey Kong, Bowser and more.

The game contains a battle mode were players can collect items and weapons to win the race. As well as a more traditional racing mode. There are 24 tracks across 6 different worlds.

Other features include NamCam which is a small digital camera, that takes the picture of the player and digitally alters it to resemble the character they have chosen. That picture is then display above the player's vehicle for the other players to see.

All tracks also contain a number of gold coins scattered around, players can collect these.
Mario Kart Arcade SD Product Details
Voltage: 110V
English version
4 pcs are in stock
Excellent condition
must order 2pcs min order
Goods available from Elk Grove Village, Chicago USA"
Mario Kart Arcade SD Other Details
| | |
| --- | --- |
| Product ID: | 005996 |
| Item Type: | Driving-Riding Games |
| Manufacturer: | Namco |
| Country: | USA |
| Year Released: | 2005 |
Mario Kart Arcade SD Images
Mario Kart Arcade SD -side view 17660
Mario Kart Arcade SD 15236
Mario Kart Arcade SD 17595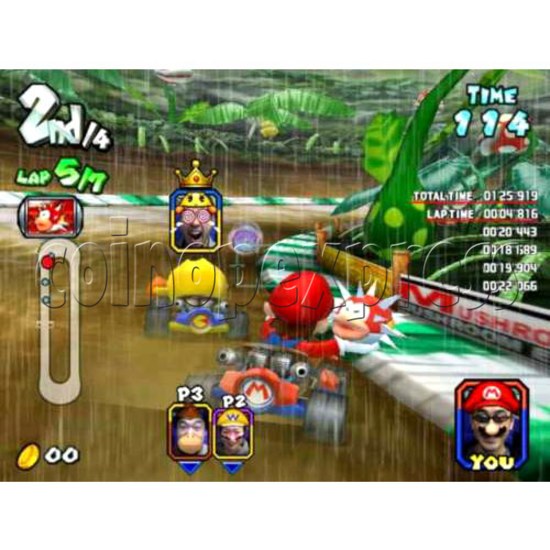 Mario Kart Arcade SD 17596
Mario Kart Arcade SD 17597
Please Note: there is minimum order of $200USD (more info)