Wangan Midnight Maximum Tune 4 DX (4 players W/Server)
About Wangan Midnight Maximum Tune 4 DX (4 players W/Server)
Wangan Midnight Maximum Tune 4 DX (4 players W/Server) come with 32 inch high definition LCD screen, which is the latest driving game machine of Wangan Maximum Tune series released by Namco, linked up to four units, with one terminal machine and with two-hundred Bana-Passport cards.

Wangan Midnight Maximum Tune 4 features with 8 new racing cars, including: Mazda RX-7 (FB), Mitsubishi Starion, Nissan Skyline Coupe (V36) / Infiniti G37 Coupe, RUF CTR "Yellowbird", RUF RGT, Subaru Legacy B4 (5th Generation), Toyota Crown (13th Generation), and one unknown car.

this version is updated with two new courses and 22 dress-up parts. The new courses include Yokohama Line and Yaesu Route, both are part of the Shuto Expressway.
Wangan Midnight Maximum Tune 4 DX (4 players W/Server) Product Details
voltage: 110V
brand new
with 32 inch LCD screen
system: ES1A2
with 8 new racing cars
4 players with Terminal & Bana-Passport 200 cards
Wangan Midnight Maximum Tune 4 DX (4 players W/Server) Other Details
| | |
| --- | --- |
| Product ID: | 008752 |
| Item Type: | Driving-Riding Games |
| Manufacturer: | Namco |
| Country: | Japan |
| Year Released: | 2011 |
| Notes: | Linked by 4 machines with a terminal and 200 Bana-Passport cards. |
Wangan Midnight Maximum Tune 4 DX (4 players W/Server) Images
Wangan Midnight Maximum Tune 4 DX (4 players W/Server) 25484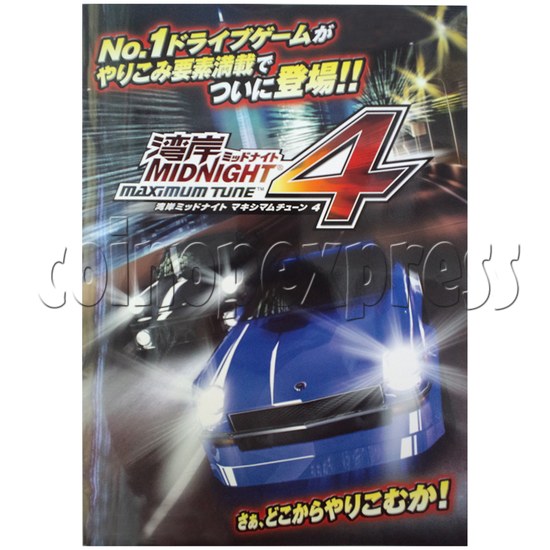 Wangan Midnight Maximum Tune 4 DX (4 players W/Server) 25485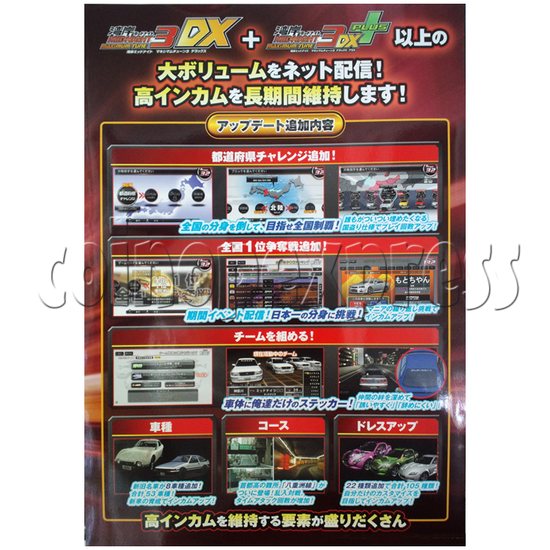 Wangan Midnight Maximum Tune 4 DX (4 players W/Server) 25486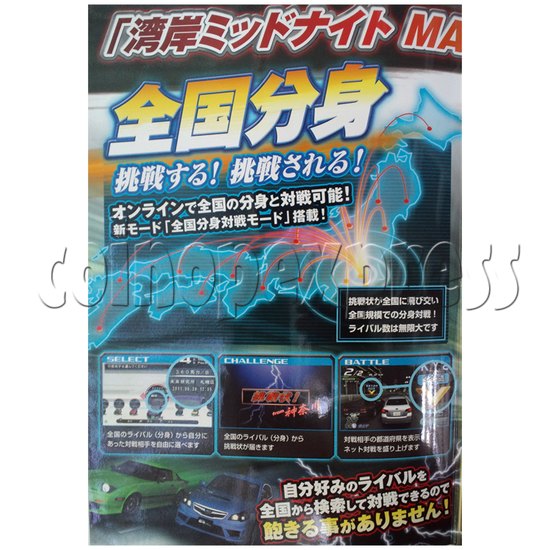 Wangan Midnight Maximum Tune 4 DX (4 players W/Server) 25487
Wangan Midnight Maximum Tune 4 DX (4 players W/Server) 25488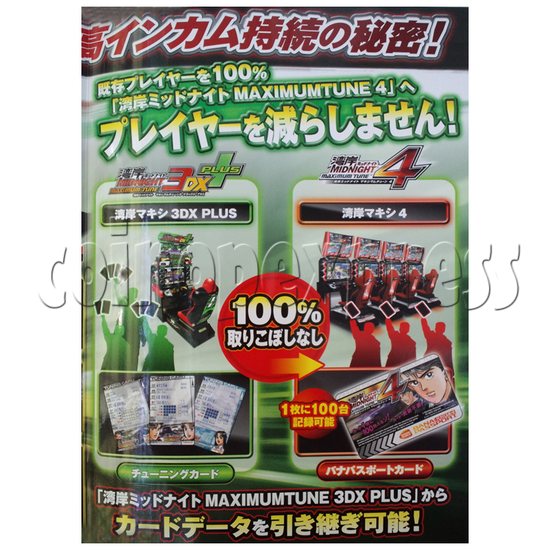 Wangan Midnight Maximum Tune 4 DX (4 players W/Server) 25489
Wangan Midnight Maximum Tune 4 DX (4 players W/Server) 25490
Please Note: there is minimum order of $200USD (more info)