Wangan Midnight Maximum Tune 3 DX
About Wangan Midnight Maximum Tune 3 DX
Wangan Maximum Tune 3 DX is released to the market.

The released features include a new map called the Nagoya Expressway, an increasement of horsepower to 825 hp (615 kW), 100 story stages and even more of them, and new vehicles: Subaru Impreza WRX STI (GRB), Mitsubishi Lancer Evolution X MR [2],Mazda MX-5 [3] and Nissan 370Z. Also a new feature is a mechanism that prevents players from making copies of the game's magnetic cards.

Different game mode are available. Story Mode is the main mode of this game. The characters from the original comic appear as your rivals. Your mission in this game is to race against these characters and defeat them. "Tuning" is one of the special features of this game. "Tuning" is available only in Story Mode.

When you play Ghost Versus Battle Mode, a "ghost" will be created. You can fight against these "ghosts" in Ghost Versus Battle Mode. The "ghost" drives the same way as the player from which the ghost was created, so when you race against a ghost, you feel like you are racing with a real player. Other features only available in Ghost Battle Mode are "Dress-Up Tuning", where you can change the appearance of your car, and Maxi Coins, which you get according to your Battle Record.

10 Outrun Mode, you have to defeat rivals in succession. You win if you defeat 10 rivals in succession. And if you finish within the set time, it means you have cleared in Gold Time.

There are 7 courses in total. Each course has rivals who range from Skill Level 1 to Level 10. The aim of 10 Outrun Mode is to clear every course and every level in Gold Time.

If you are playing Story mode, Ghost Versus Battle Mode, 10 Outrun Mode or Time Attack and set the VS mode to "Accept VS challengers", players can challenge you from other game machines.

In this game, you can connect up to 3 game machines, so a total of four 4 players, including you, can race at the same time. If you win, you get an Outrun Star. And you can choose the course you want to race on, thanks to the free branching system.

In Time Attack mode, you run alone in the course and compete against the clock.
Wangan Midnight Maximum Tune 3 DX Product Details
Wangan Midnight Maximum Tune 3 DX Other Details
| | |
| --- | --- |
| Product ID: | 007999 |
| Item Type: | Driving-Riding Games |
| Manufacturer: | Namco |
| Country: | Hong Kong |
| Year Released: | 2008 |
Wangan Midnight Maximum Tune 3 DX Images
Wangan Midnight Maximum Tune 3 DX 21813
Wangan Midnight Maximum Tune 3 DX 21814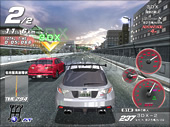 Wangan Midnight Maximum Tune 3 DX 21806
Wangan Midnight Maximum Tune 3 DX 21807
Wangan Midnight Maximum Tune 3 DX 21808
Wangan Midnight Maximum Tune 3 DX 21809
Wangan Midnight Maximum Tune 3 DX 21810
Wangan Midnight Maximum Tune 3 DX 21811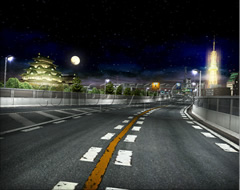 Wangan Midnight Maximum Tune 3 DX 21812
Wangan Midnight Maximum Tune 3 DX 21804
Wangan Midnight Maximum Tune 3 DX 21805
Please Note: there is minimum order of $200USD (more info)