The Grid Sega driving game (52 inch single DX)
About The Grid Sega driving game (52 inch single DX)
The Grid Sega driving game (single) is a simulate racing game from Sega, features with 32 inch high definition screen, fastest cars, famous racing road, and which that can be played as a single machine or linked up to 6 machines for multi players' competition.

This Grid machine creates adventure experience by the reality damage effect; that is only visual and does not affect the player's car.

This machine features with a RESET button – puts player back on the racing road facing the right direction almost immediately so the player gets straight back into the race after a smash.

It comes with 12 famous cars: including Aston Martin DBR8, Bugatti Veyron, Dodge Challenger and Viper, Ford Mustang,
Jaguar XKR, Koenigsegg CCGT, Mercedes McLaren SLR, McLaren F1, Pagani Zonda, Saleen S7 & Toyota Supra.

And 8 challenging racing road from around the world including: Detroit, Donington Park, Long Beach, Milan, Nurburgring, Okutama, San Francisco, Spa & Washington.
The Grid Sega driving game (52 inch single DX) Product Details
with 52 inch high definition screen
eye-catching sit-down cabinet
with LED lighting effect
full feedback steering
with 2.1 sound system
upgrade with 12 cars, 8 challenging racing road
with reality damage effect
The Grid Sega driving game (52 inch single DX) Other Details
| | |
| --- | --- |
| Product ID: | 008711 |
| Item Type: | Driving-Riding Games |
| Manufacturer: | Sega |
| Country: | Europe |
| Year Released: | 2010 |
| Notes: | two set of The Grid machines can be linked up for twin play |
The Grid Sega driving game (52 inch single DX) Images
The Grid Sega driving game (52 inch single DX) 25266
The Grid Sega driving game (52 inch single DX) 25267
The Grid Sega driving game (52 inch single DX) 25268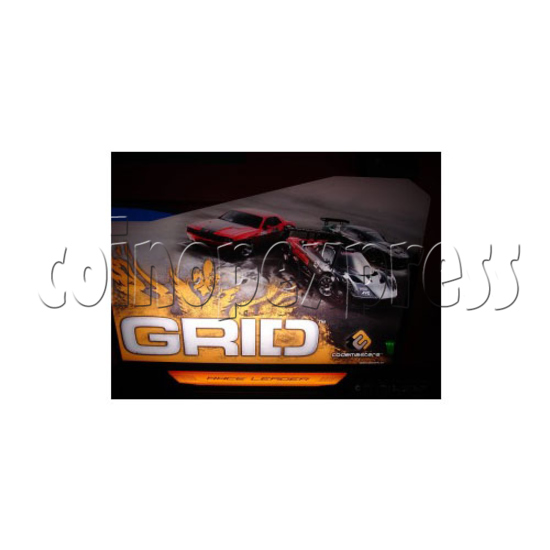 The Grid Sega driving game (52 inch single DX) 25269
The Grid Sega driving game (52 inch single DX) 25270
Please Note: there is minimum order of $200USD (more info)