3D Triple Screen Motorbike Racing Simulator
About 3D Triple Screen Motorbike Racing Simulator
3D Triple Screen Motorbike Racing Simulator is an latest 3D Moto driving machine, built with three ultra high resolution screens, design for a reality 3D motorbike racing experience and life-like speed performance, it is available for single player or multi players competition via network.

This motorbike racing machine is easily connect three displays to create your own virtual cockpit and features with view changeable action, including 4 difference views for the various racing view modes.

This simulator is advantage with many famous courses and different worldwide environments, was the best option for running as a real race motorbike games.

How to play:
- Insert coins and star games;

- player use pedals and shifters to select game mode, character, props, view change and enter into the game play mode;

- player use steering wheel and race to be first to win the competition game.
3D Triple Screen Motorbike Racing Simulator Product Details
voltage: 220V / 110V
motorbike racing game machine
player: single player ( one seat)
screen size: 42 inch LCD screen x 3sets
with three high definition screen
full motion with the thrill of speed at its fullest fun racing
3D stereo effect design to make for extremely realistic motorbike racing simulations
providing real time race, just like a real race motorbike
online tournament mode can be accessed with Internet connection
high quality coin selector installed
3D Triple Screen Motorbike Racing Simulator Other Details
| | |
| --- | --- |
| Product ID: | 009725 |
| Item Type: | Driving-Riding Games |
| Country: | China (ex factory) |
3D Triple Screen Motorbike Racing Simulator Images
3D Triple Screen Motorbike Racing Simulator 32027
3D Triple Screen Motorbike Racing Simulator 32028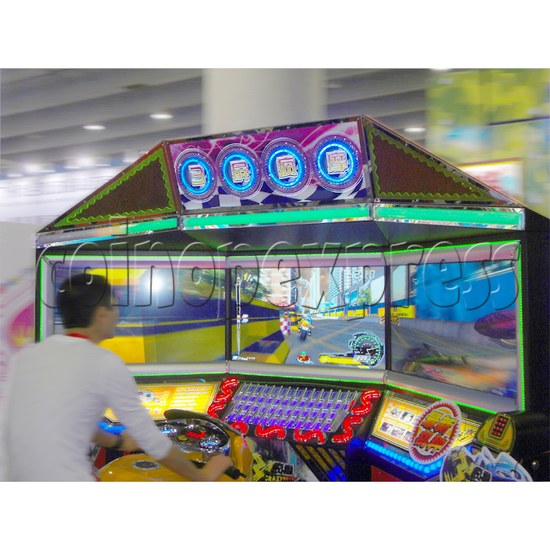 3D Triple Screen Motorbike Racing Simulator 32029
Please Note: there is minimum order of $200USD (more info)