Bowling Champ Video Game Ticket Redemption Machine (Kids Edition)
About Bowling Champ Video Game Ticket Redemption Machine (Kids Edition)
Bowling Champ Video Game Ticket Redemption Machine (Kids Edition) is 2 lane video bowling arcade game with redemption tickets. Superbly designed cabinet with two large 42" HD monitors, 3D computer graphics and fun animated characters, combined with bowling lanes, simulate real bowling game and bring real bowling game experience for players.

Machine features unique modern style and streamlined colorful lighting design, which is dazzling and eye-catching. With reasonable ergonomics design and man-machine battle, three major opponents with different personalities, intelligent Al, it's full of fun. It supports large-scale simulation bowling game for 8 players online battle. Three different elements of the scene, impact the player's vision and reveal immersive fun. Machine is designed camera function, the player's avatar is displayed in the game to increase the sense of immersion. Players with excellent scores can enter the leader board for a sense of achievement.

How to play:
1. Insert coins, game start. (For the "Link play", insert coin per lane simultaneously and compete with each other)
2. Throw the bowling ball on the lane, knock down as many pins as you can to win corresponding scores.
3. If player knock down all bowling pins, player can enter the "lucky draw" game.
4. The game over, player according to the scores get the corresponding tickets. High scores players can enter the leadboard, try to achieve "Top 8 Ranking".
Bowling Champ Video Game Ticket Redemption Machine (Kids Edition) Product Details
video bowling arcade game
two-in-one cabinet design
two large 42" HD monitors
with large colourful top-flash header marquee
colour changing LED light
3D computer graphics and fun animated characters
man-machine battle or online battle
design with camera function
suitable for all ages, kids and adults
player: 1~2 players
power: 500W
dimension: W1690 x D2180 x H2350 mm
Bowling Champ Video Game Ticket Redemption Machine (Kids Edition) Other Details
| | |
| --- | --- |
| Product ID: | 011550 |
| Item Type: | Bowling Machine |
| Country: | China (ex factory) |
Bowling Champ Video Game Ticket Redemption Machine (Kids Edition) Images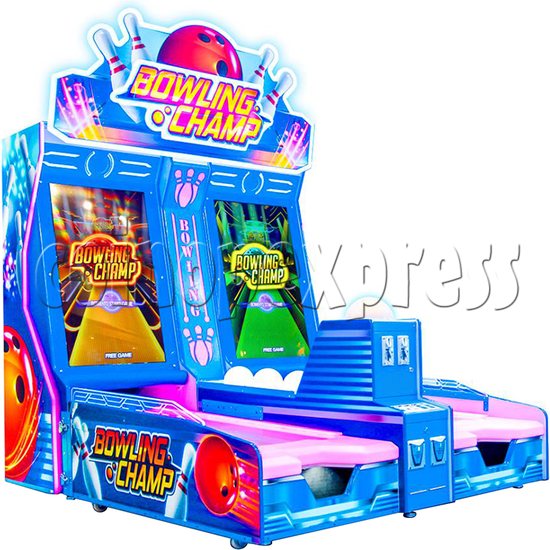 Bowling Champ Video Game Ticket Redemption Machine (Kids Edition) left view
Please Note: there is minimum order of $200USD (more info)