To Tha Net Basketball Ticket Redemption Machine
About To Tha Net Basketball Ticket Redemption Machine
To Tha Net Basketball Ticket Redemption Machine is a Basketball Arcade Game, it has four different operator-adjustable stages, players make as many shots as they can before the shot clock runs out to progress to the next level.

But, this machine is different with other standard basketball machine for its LCD background. To Tha Net features a large 65" HD display for the backboard for replacing the standard numerical LED counters. This "mixed reality" idea blends the best of the mechanical and the digital into one piece, encouraging both first and repeat play well beyond your typical basketball game. Dazzling graphics & animations are displayed as people play, clearly showing progress and scoring.

To Tha Net basketball machine can link up to 16 units for tournament style, multiplayer excitement. The game is also available in a Jr. model that brings the same fun to kids!
To Tha Net Basketball Ticket Redemption Machine Product Details
Play a classic game with a digital interactive 65inch LCD screen
Exciting graphics and realistic sounds keeps you in the game!
Monitor basketball layered levels add tremendously to repeat play
A unique "mixed reality" twist on the classic basketball concept
The screen is protected by a layer of plexiglass that has been tested for durability
Backlit RGB LED T-molding & speakers to add that extra flash appeal
Floor-based mechanical door stops the balls when the game is over
Four stages to play with operator-adjustable difficulty levels
Animations, scoring (for all players), and more are displayed to capture attention
Crisp sound effects and music, bolstered by voice prompts to guide players through the game
Backlit RGB LED T-molding & speakers to add that extra flash appeal
Floor-based mechanical door stops the balls when the game is over
Four stages to play with operator-adjustable difficulty levels
Crisp sound effects and music, bolstered by voice prompts to guide players through the game
Link up to 16 cabinets
Ticket redemption option
Comes with a single coin slot; card swipe compatible
To Tha Net Basketball Ticket Redemption Machine Other Details
| | |
| --- | --- |
| Product ID: | 010766 |
| Item Type: | Basketball Machines |
| Manufacturer: | Universal |
| Country: | China |
| Year Released: | 2019 |
To Tha Net Basketball Ticket Redemption Machine Images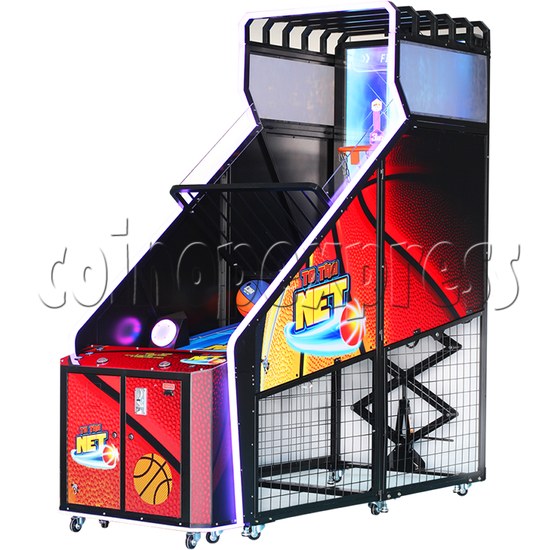 To Tha Net Basketball Arcade Ticket Redemption Game Machine - right view
To Tha Net Basketball Arcade Ticket Redemption Game Machine - catalogue
Please Note: there is minimum order of $200USD (more info)